Welcome to the 9th Phnom Penh International Half Marathon 2019
Event Date: 16th June, 2019
Location: In front of Royal Palace, Phnom Penh.
Dear all International and National runners,
The 9th Phnom Penh International Half Marathon will  be held  on 16th June, 2019  with the exceptional starting  and finishing place in front of the Royal Palace  beside the  famous Mekong  river
This  annual event  is  celebrating the  Birthday of  Queen Norodom Monineath Sihanouk and  conjunction with the World Environment Day as well as commemorate the 125th Olympic Day.
Our slogan also  run for support Kantha Bopha Children's  Hospitals and  for the Green city to   improve human well -being and  friendship.
By this opportunity, we would like to invite international and national runners, supporters to  join in the important events. Your participation will certainly bring the great success to this  event!
All the best wishes ! See you soon!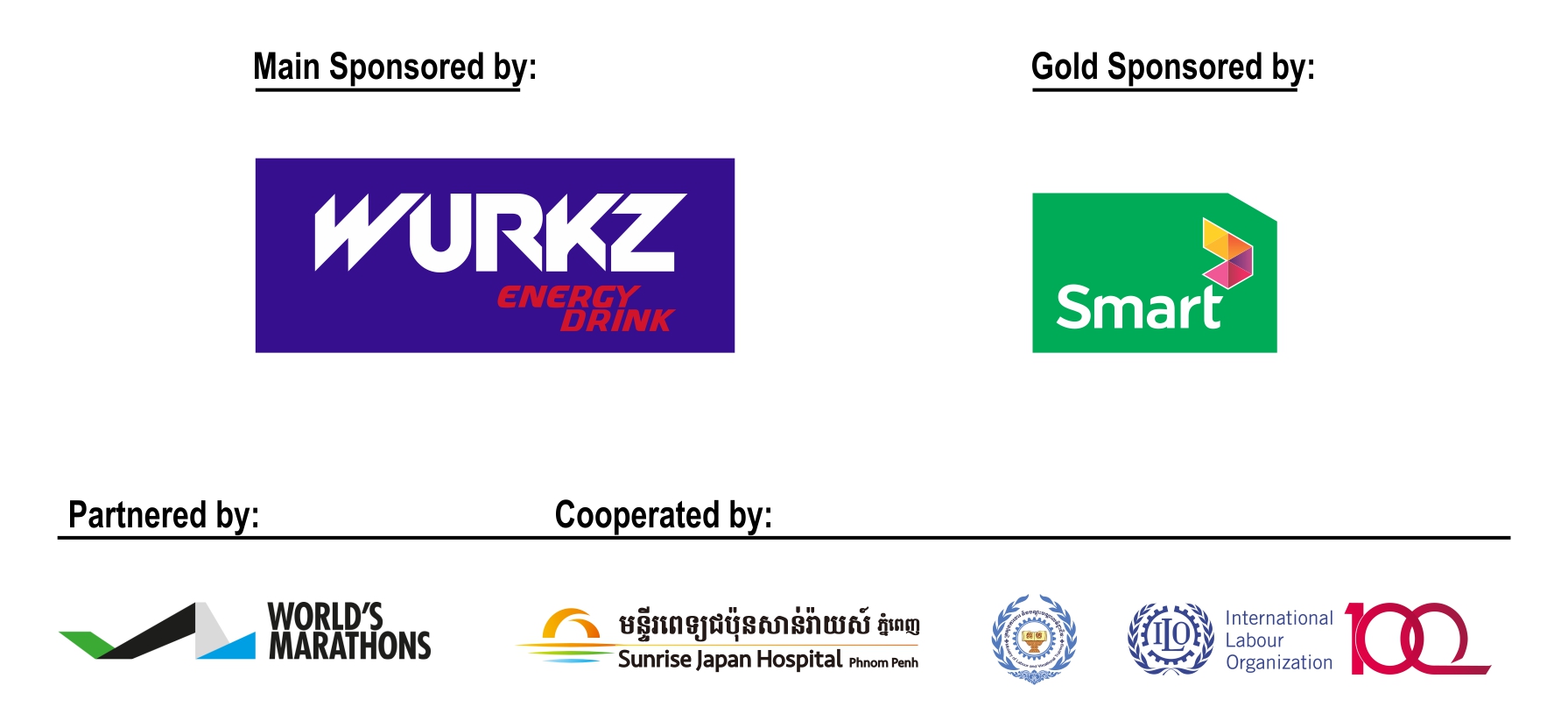 Event Schedule
Race Category
Gender
Age
Start Time
Cut-off Time
Half Marathon (21km)
Men/Women
16yrs to Up
06:00am
3 hours
10km Road Races
Men/Women
13yrs to Up
06:10am
1 hour 30mns
03km Fun Run
Men/Women
Adult/Kid
06:20am
45mns
** All participants should be arrived the race point at least 30minutes before race's start!
Running Course
The courses are run the streets of Phnom Penh city which along riverside and while part of the Royal Palace will be reserved for participants with the local authorities managing the roadways and intersections, runner are still urged to use caution while the course, as you will likely encounter some traffic and also enjoy to see the activities of local people doing in the morning time along the running course.
Water Station
Every 2km the water station was set up for delivering water to each runners and our volunteers will distribute the water all runners when needed.
Refreshment
Water ,Bananas and energy drinks would be provided along the course and  at the finish line.
Category Prizes
The top three finishers of Half Marathon (21km) and 10km Race category will be received medal of winners 1st, 2nd, and 3rd. All prizes must be claimed on the day of the race, the organizers will  mail any unclaimed prizes to runners failing to collect them on the race day.
Benefits
Finisher medal will be provided for Half Marathon and 10km.
Medical and First-Aid Posts
First aider are on standby along the race route to ensure that timely as per metioned in course map and efficient medical attention can be rendered at all times. Runners can approach route marshals for assistance to call for medical assistance.
Medical Advisory
Participants are strongly advised to stop your race and alert the nearest first aids staffs  along the course  if there are experience any of the below:
- Light-headedness - Dizziness - Nausea - Sudden Fatigue - Chest Pain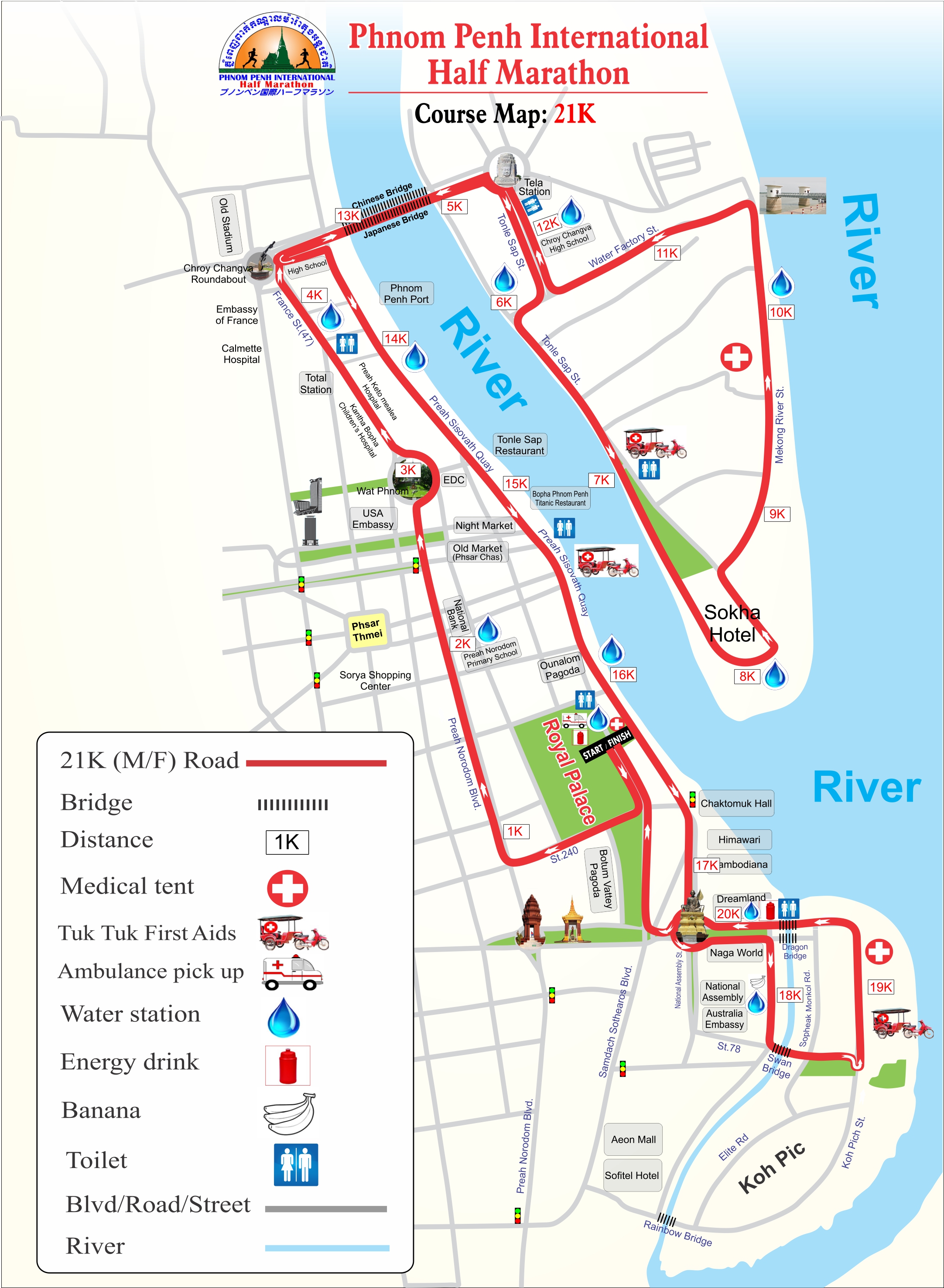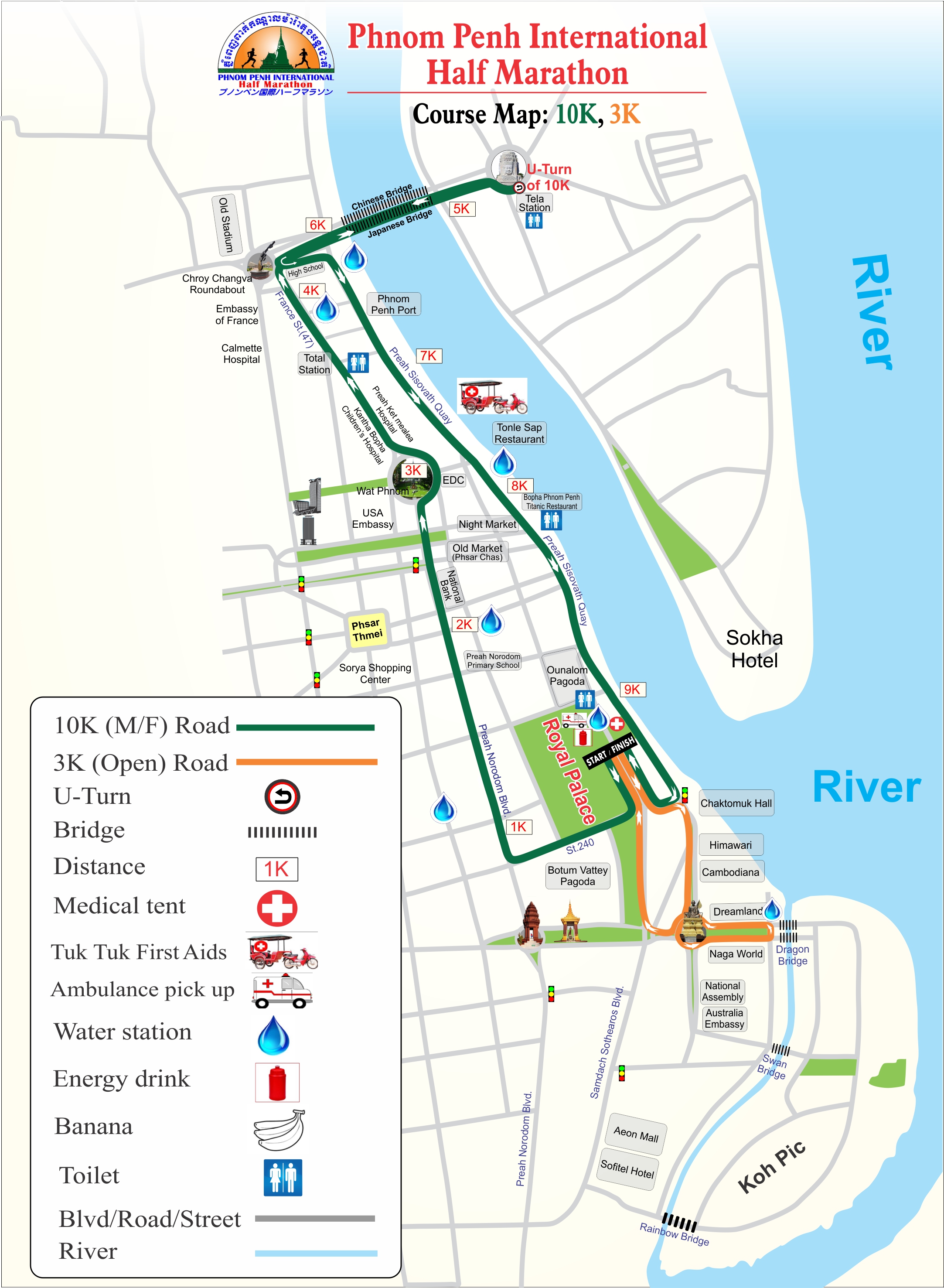 Registration fees
Race Categories
Gender
Age
Foreigner
Cambodian
Now-31 May, 2019
Half Marathon(21km)
Men/Women
16yrs/Up
USD 50.00
USD 15.00
10km Road Race
Men/Women
13yrs/Up
USD 40.00
USD 10.00
03km Family Run
Men/Women
Adult & Kid
USD 20.00
USD 5.00
>> Deadline registration on 31 May 2019
1. Onsite Registration
** Please click here to download entry form to fill up and submit it together with the payment at our registration offices located at:
National Olympic Committee of Cambodia (NOCC)
Address : No 1, Street Republic of Poland (163), Sangkat Veal Vong, Khan 7 Makara, Phnom Penh, Cambodia.
Cellphone : (855) 98 948 891 (Khmer Speaking)
E-mail : ppihm@phnompenhmarathon.org
Cambodia Events Organizer Co., Ltd (CEO)
Address : No. 79C, Street 155, Sangkat Toul Tompong I, Chamcar Mon Dist, Phnom Penh, Cambodia.
Telephone :(855)23-213 525, Cellphone :(855)15 213 525 | (855)69 213 525 (KHM & ENG Speaking)
E-mail: reg@cambodia-events.org | info@cambodia-events.org
2. Online Registration
Our International Races are certified by AIMS and sanctioned by IAAF, please select your corresponding category in the registration platform.
Online Registration for Worldwide Runners, You can register to the race by one of the following registration links:
- Registration link through World's Marathons : Click Here
- Registration link through Singapore : Click Here
I. Easy Package for Phnom Penh International Half Marathon
| No | First Name | Last Name | Nation | Donate |
| --- | --- | --- | --- | --- |
| 1 | Aarandeep | Dosanjh | GBR | THB 1,000.00 |
| 2 | caroline | McBain | GBR | THB 500.00 |
| 3 | Abigail | Pee | IRL | THB 2,000.00 |
| 4 | Adam | Scott | GBR | THB 600.00 |
| 5 | Ah Yoong | Yap | MAS | THB 1,000.00 |
| 6 | Alicia | Roberts | NZL | THB 1,000.00 |
| 7 | Alison | Mastrangelo | USA | THB 1,000.00 |
| 8 | Alison | Rusinow | GBR | THB 1,000.00 |
| 9 | Alistair | Cook | GBR | THB 1,900.00 |
| 10 | Amanda | Ottewell | CAN | THB 300.00 |
| 11 | Amy | Burdis | GBR | THB 600.00 |
| 12 | Amy | Sommers | USA | THB 200.00 |
| 13 | Ana | Bonell | GBR | THB 2,500.00 |
| 14 | Anders | Tidemand-Johannessen | NOR | THB 500.00 |
| 15 | Andrew | Mckillop | GBR | THB 200.00 |
| 16 | Andrew | Sabo | USA | THB 1,000.00 |
| 17 | Andy | Davidson | GBR | THB 1,050.00 |
| 18 | Anna | Bradshaw | NZL | THB 200.00 |
| 19 | Anna | Koklanakis | GBR | THB 500.00 |
| 20 | Annabel | Archer | AUS | THB 400.00 |
| 21 | AnnMarie E | Draycott | USA | THB 1,485.00 |
| 22 | antonio | conci | ITA | THB 300.00 |
| 23 | ANTONY | LINDEN | GBR | THB 2,000.00 |
| 24 | Arius | Yu | MAS | THB 1,000.00 |
| 25 | Arnault | Brac de la Perriere | FRA | THB 1,000.00 |
| 26 | Arthur | Dickie | NZL | THB 200.00 |
| 27 | Ashley | Chang | USA | THB 10.00 |
| 28 | Audrey | McIlvride | GBR | THB 1,000.00 |
| 29 | BARRY | CRANE | GBR | THB 1,000.00 |
| 30 | Bart | Robertson | USA | THB 600.00 |
| 31 | Bart (W.L.) | Wissink | NET | THB 1,000.00 |
| 32 | Behzad | Nadjm | GBR | THB 2,500.00 |
| 33 | Belinda | Yeo | SIN | THB 1,000.00 |
| 34 | Ben | Lloyd | GBR | THB 200.00 |
| 35 | Benedicte | Caudron | BEL | THB 900.00 |
| 36 | Benjamin | Tuff | GBR | THB 1,000.00 |
| 37 | Bent | Nielsen | DEN | THB 500.00 |
| 38 | Bernard | Seys | BEL | THB 400.00 |
| 39 | Beth | Fletcher | AUS | THB 500.00 |
| 40 | BOON PENG | TAN | MAS | THB 2,000.00 |
| 41 | Brian | O`Shea | USA | THB 600.00 |
| 42 | Bridie | Anderson | AUS | THB 500.00 |
| 43 | Bruno | Chevot | FRA | THB 3,800.00 |
| 44 | Carole | Atkin | GBR | THB 200.00 |
| 45 | cedric | menager | FRA | THB 500.00 |
| 46 | Charles | Orchard | GBR | |
| 47 | CHEN | CHEN | CHN | THB 500.00 |
| 48 | chen | li | CHN | THB 200.00 |
| 49 | chidambaram | ch | IND | THB 50.00 |
| 50 | Chin Chin | Chua | MAS | THB 100.00 |
| 51 | CHISA | NAKAYAMA | JPN | THB 100.00 |
| 52 | Choon Hing | Chang | MAS | THB 1,500.00 |
| 53 | Chris | Davis | GBR | THB 2,000.00 |
| 54 | Christian | Bauer | GER | THB 500.00 |
| 55 | Christian | Roland | GER | THB 1,000.00 |
| 56 | Christina | Vaal | GER | THB 1,000.00 |
| 57 | christoph | weigl | AUT | THB 1,000.00 |
| 58 | Claire | Barr | GBR | THB 500.00 |
| 59 | Claire | Emes | FRA | THB 500.00 |
| 60 | Clare | Duffield | AUS | THB 2,000.00 |
| 61 | Claudette | Baigorria | USA | THB 1,000.00 |
| 62 | Claudia | Fidalgo | CHI | THB 100.00 |
| 63 | clement | balme | FRA | THB 400.00 |
| 64 | clement | Burcier | FRA | THB 2,000.00 |
| 65 | Clive | Kerner | GBR | THB 5,000.00 |
| 66 | Corina | Palmer | AUS | THB 100.00 |
| 67 | Cory | Fox | USA | THB 100.00 |
| 68 | Craig | Doel | NZL | THB 300.00 |
| 69 | Cristina | Clavera | ESP | THB 1,000.00 |
| 70 | Dalia | Turner | CAN | THB 200.00 |
| 71 | David | Chambat | FRA | THB 900.00 |
| 72 | David | Grant | GBR | THB 2,500.00 |
| 73 | David | Griffin | AUS | THB 500.00 |
| 74 | David | Ling | AUS | THB 1,000.00 |
| 75 | david | morton | AUS | THB 500.00 |
| 76 | de Rotalier | Aude | FRA | THB 100.00 |
| 77 | Deborah | Turco | AUS | THB 10.00 |
| 78 | Denise | Gascoigne | NZL | THB 5,000.00 |
| 79 | dermot | casey | IRL | THB 200.00 |
| 80 | Derrill | Lowry | USA | THB 1,000.00 |
| 81 | Dieter | Baekelandt | FRA | THB 1,000.00 |
| 82 | Di-Luu | Lam | AUS | THB 900.00 |
| 83 | Dwayne | Nortmann | RSA | THB 400.00 |
| 84 | edouard | chalopin | FRA | THB 1,000.00 |
| 85 | Edrick | Ho | AUS | THB 800.00 |
| 86 | Edward | Peel | GBR | THB 2,000.00 |
| 87 | Elana | Findlow | CAN | THB 25.00 |
| 88 | Elizabeth | Recter | NET | THB 200.00 |
| 89 | emily | carrick | GBR | THB 500.00 |
| 90 | Emily | Tillett | NZL | THB 1,000.00 |
| 91 | Emmeline | Menager | FRA | THB 500.00 |
| 92 | Engban | Ho | MAS | THB 500.00 |
| 93 | Eva | Maresova | CZE | THB 900.00 |
| 94 | Farah Nurha | Elias | MAS | THB 100.00 |
| 95 | Franck | Scherer | FRA | THB 500.00 |
| 96 | Frankie | Simmons | GBR | THB 100.00 |
| 97 | Freark | Bruisma | NET | THB 1,000.00 |
| 98 | Frederic | Meyer | FRA | THB 1,000.00 |
| 99 | Fredrik | Rosenholm | SWE | THB 200.00 |
| 100 | Frida | Rosenholm | SWE | THB 200.00 |
| 101 | Geir | Fuglerud | NOR | THB 500.00 |
| 102 | Gemma | Ching-A-Sue | GBR | THB 300.00 |
| 103 | Geoff | McLaren | AUS | THB 1,000.00 |
| 104 | Germain | AUZANNEAU | FRA | THB 1,000.00 |
| 105 | Giacomo | Clerici | ITA | THB 500.00 |
| 106 | Gordon | Hirons | CAN | THB 1,000.00 |
| 107 | Graeme | Halder | GBR | THB 1,000.00 |
| 108 | Graeme | Oldham | GBR | THB 1,000.00 |
| 109 | Greg C | Barnes | AUS | THB 200.00 |
| 110 | Gregory | Jones | GBR | THB 3,000.00 |
| 111 | Guillaume | Alleon | FRA | THB 2,100.00 |
| 112 | Guillaume | Demesy | SUI | THB 7,000.00 |
| 113 | Hai Du | Tran | AUS | THB 800.00 |
| 114 | Haryadi | Permana | INA | THB 900.00 |
| 115 | Heather | King | CAN | THB 300.00 |
| 116 | Heather | Preen | GBR | THB 1,000.00 |
| 117 | Heike | Lautenschlager | AUS | THB 1,000.00 |
| 118 | Heike | Mennenga Sauer | GER | THB 1,000.00 |
| 119 | HIROSHI | TAKEUCHI | JPN | THB 400.00 |
| 120 | Holger | Zunft | GER | THB 4,000.00 |
| 121 | Holly | Johnson | CAN | THB 200.00 |
| 122 | Ian | Croft | GBR | THB 1,000.00 |
| 123 | Inmaculada | Martinez | ESP | THB 800.00 |
| 124 | IRASEMA | CASTELLANOS | MEX | THB 500.00 |
| 125 | Irene | Fentiman | GBR | THB 500.00 |
| 126 | Isabelle | Bourjade | FRA | THB 2,000.00 |
| 127 | Ishan | Muthalib | AUS | THB 500.00 |
| 128 | Ivan | Habovcik | SVK | THB 2,000.00 |
| 129 | Jacob | Anderson | AUS | THB 500.00 |
| 130 | Jacqueline | Greenizan | CAN | THB 500.00 |
| 131 | Jacqueline | Rodrigo | SIN | THB 900.00 |
| 132 | Jacqui | Brinkhorst | GBR | THB 1,320.00 |
| 133 | jaime | jones | GBR | THB 100.00 |
| 134 | James | Ball | GBR | THB 1,000.00 |
| 135 | James | Orchard | GBR | |
| 136 | James | Sinclair | AUS | THB 500.00 |
| 137 | James | Sowden | IRL | THB 1,000.00 |
| 138 | James | Walton | GBR | THB 1,000.00 |
| 139 | James | Whitehorn | GBR | THB 1,000.00 |
| 140 | James | Wilde | GBR | THB 200.00 |
| 141 | Jamie | Chambers | GBR | THB 1,000.00 |
| 142 | Jane | Hirons | CAN | THB 2,100.00 |
| 143 | Jane | McDonald | GBR | THB 400.00 |
| 144 | Jason | Lockwood | AUS | THB 1,000.00 |
| 145 | Javier | Sanchez | MEX | THB 200.00 |
| 146 | Jean-Paul | Churchouse | NZL | THB 5,000.00 |
| 147 | Jeff | Williams | GBR | THB 1,000.00 |
| 148 | Jeffrey | Whykes | AUS | THB 1,000.00 |
| 149 | Jenny | Rose | GBR | THB 100.00 |
| 150 | Jesper | Marstrand | DEN | THB 400.00 |
| 151 | Ji Yeong | Kang | KOR | THB 1,000.00 |
| 152 | Jillian | Chai | AUS | THB 400.00 |
| 153 | Joanna | Boquist | SWE | THB 500.00 |
| 154 | Joanna | Heath-Whyte | GBR | THB 1,100.00 |
| 155 | Jochem | Smit | NET | THB 1,000.00 |
| 156 | Johan | Persson | SWE | THB 2,000.00 |
| 157 | Johanna | Leahy Marstrand | IRL | THB 400.00 |
| 158 | John | Parbery | AUS | THB 2,000.00 |
| 159 | John Sinclair | Foley | GBR | THB 1,000.00 |
| 160 | Jonathan | Jenkins | GBR | THB 1,000.00 |
| 161 | Judianna | Barnes | AUS | THB 8,500.00 |
| 162 | Julia | Armstrong | GBR | THB 900.00 |
| 163 | Julia | WHitfield | CAN | THB 1,900.00 |
| 164 | Julie | Green | GBR | THB 500.00 |
| 165 | JULIE | PORTER | GBR | THB 1,000.00 |
| 166 | Justine | Guyton | GBR | THB 600.00 |
| 167 | Kali | Reid of Robertland | AUS | THB 1,000.00 |
| 168 | Karan | Kaul | IND | THB 2,000.00 |
| 169 | Karen | Clark | AUS | THB 1,000.00 |
| 170 | karen michele | buckley | AUS | THB 500.00 |
| 171 | Kate | Allen | GBR | THB 1,000.00 |
| 172 | Kathryn | Carmalt | GBR | THB 2,000.00 |
| 173 | Katy | Cheney | GBR | THB 2,000.00 |
| 174 | Keith | Holder | GBR | THB 2,100.00 |
| 175 | Kelly | Hattel | USA | THB 1,000.00 |
| 176 | Kelly | Holmes | GBR | THB 5,000.00 |
| 177 | Kelly Leigh | Olver | NZL | THB 500.00 |
| 178 | Kerry | Tarrant | GBR | THB 500.00 |
| 179 | Kim | Swan | NZL | THB 1,000.00 |
| 180 | Kimberly | Prudhomme | USA | THB 1,600.00 |
| 181 | Kin Hou | Tan | SIN | THB 1,000.00 |
| 182 | Kirsty | Allen | AUS | THB 1,000.00 |
| 183 | KookHee | Andersson | SWE | THB 2,000.00 |
| 184 | Kozue | Yasunaga | JPN | THB 100.00 |
| 185 | Kristen | Gray | USA | THB 900.00 |
| 186 | kurt | nass | GER | THB 50.00 |
| 187 | laura | ramirez | SUI | THB 6,000.00 |
| 188 | Laurent | AUZANNEAU | FRA | THB 1,000.00 |
| 189 | Leah | Morrison | CAN | THB 500.00 |
| 190 | Leif | Strid | USA | THB 300.00 |
| 191 | Leon | Lee | AUS | THB 500.00 |
| 192 | Linsey | Lawrence | GBR | THB 1,000.00 |
| 193 | Lisa | Faddy | AUS | THB 1,500.00 |
| 194 | Lisa | Gold | GBR | THB 650.00 |
| 195 | lois | woodward | GBR | THB 30.00 |
| 196 | Lotte | Petersen | DEN | THB 2,000.00 |
| 197 | Lucy | Marriott | GBR | THB 1,000.00 |
| 198 | Marc | Mojon | FRA | THB 1,400.00 |
| 199 | Marcus | Jungbauer | GER | THB 500.00 |
| 200 | Margaret | Johnson | AUS | THB 400.00 |
| 201 | Margret | Huenerbein | GER | THB 500.00 |
| 202 | Mari | Kobayashi | JPN | THB 800.00 |
| 203 | Maria Elaina | Cortez | USA | THB 500.00 |
| 204 | Mario | Viarengo | ITA | THB 500.00 |
| 205 | Mark | Bradshaw | GBR | THB 400.00 |
| 206 | Mark | Daniel | GBR | THB 500.00 |
| 207 | Mary | Johnson | GBR | THB 100.00 |
| 208 | Massimiliano | Talli | ITA | THB 300.00 |
| 209 | Matthew | Dore | GBR | THB 1,000.00 |
| 210 | Max | Clissold | GBR | THB 1,000.00 |
| 211 | Max | von Etzdorf | GBR | THB 900.00 |
| 212 | maxence | vanderlynden | FRA | THB 400.00 |
| 213 | Megan | Gray | AUS | THB 1,000.00 |
| 214 | Melanie | Gehman | USA | THB 1,000.00 |
| 215 | Michael | Barry | IRL | THB 200.00 |
| 216 | Michelle | Moore | NZL | THB 2,400.00 |
| 217 | Midori | Watanabe | JPN | THB 500.00 |
| 218 | Mike | Migdoll | GBR | THB 1,000.00 |
| 219 | Mun Yi | Leong | MAS | THB 2,000.00 |
| 220 | Nadine | AUZANNEAU | FRA | THB 1,000.00 |
| 221 | Natalie | Bennett | AUS | THB 1,000.00 |
| 222 | Natalie | Lockwood | AUS | THB 1,000.00 |
| 223 | Nguen | Tong | MAS | THB 1,000.00 |
| 224 | NICHOLAS | SMITH | GBR | THB 230.00 |
| 225 | Nick | Craig | AUS | THB 100.00 |
| 226 | Nick | Thursby | GBR | THB 5,000.00 |
| 227 | Nicola | Halder | GBR | THB 1,000.00 |
| 228 | Nicolas | Baume | SUI | THB 1,000.00 |
| 229 | Nicolas | Duterque | FRA | THB 1,200.00 |
| 230 | Nicole | Nicholson | GBR | THB 600.00 |
| 231 | Nicole | Nortmann | RSA | THB 400.00 |
| 232 | Nicole | Parker | GBR | THB 500.00 |
| 233 | Nicoletta | Stefanidou | GER | THB 4,000.00 |
| 234 | Nigel | Sumner | GBR | THB 2,000.00 |
| 235 | Nurhadijono | Nurjadin | INA | THB 500.00 |
| 236 | Olav | Doesen | NOR | THB 1,000.00 |
| 237 | Oliver | Allcock | GBR | THB 100.00 |
| 238 | olivier | de rotalier | FRA | THB 100.00 |
| 239 | OSAMU | TAKEDA | JPN | THB 100.00 |
| 240 | paget | dare bryan | GBR | THB 2,000.00 |
| 241 | Pamela | Mcgill | GBR | THB 250.00 |
| 242 | Patel | Priya | GBR | THB 400.00 |
| 243 | Patrick | Hanna | CAN | THB 200.00 |
| 244 | Patrick | Looram | USA | THB 3,000.00 |
| 245 | Paul | Durant | AUS | THB 500.00 |
| 246 | Paul | Judge | GBR | THB 900.00 |
| 247 | Pauline Ruth | Appleyard | GBR | THB 4,100.00 |
| 248 | Pawan | Pandey | IND | THB 1,000.00 |
| 249 | Percy | Sewell | GBR | THB 1,500.00 |
| 250 | Peter | Kennan | AUS | THB 1,000.00 |
| 251 | Peter | Kiddle | GBR | THB 1,000.00 |
| 252 | Philip | Greenwood | USA | THB 200.00 |
| 253 | Philip | Walsh | AUS | THB 2,000.00 |
| 254 | Philippa | Mundigian | GBR | THB 1,900.00 |
| 255 | Philippe | Abraham | FRA | THB 1,000.00 |
| 256 | Philippe | Dirckx | BEL | THB 900.00 |
| 257 | Pierre | Buise | NET | THB 1,000.00 |
| 258 | Pierre | Lambret | FRA | THB 1,000.00 |
| 259 | Priya | Doobaree | MRI | THB 3,000.00 |
| 260 | Rachael | Grafton | GBR | THB 100.00 |
| 261 | Rachael | Peedom | AUS | THB 500.00 |
| 262 | Rebecca | Ashby | AUS | THB 2,100.00 |
| 263 | Rebecca | Port | GBR | THB 900.00 |
| 264 | Regina | Feliciano | PHI | THB 1,000.00 |
| 265 | Remi | Frayer | FRA | THB 1,000.00 |
| 266 | Renee | deverall | AUS | THB 500.00 |
| 267 | richard | bray | GBR | THB 1,000.00 |
| 268 | RICHARD | WALSH | AUS | THB 2,000.00 |
| 269 | Rick | Switzer | USA | THB 300.00 |
| 270 | Roarllene | Galang | PHI | THB 1,050.00 |
| 271 | Robin | Bednall | AUS | THB 900.00 |
| 272 | Rod | Palmer | AUS | THB 100.00 |
| 273 | Roy | Tonhauser | GER | THB 1,900.00 |
| 274 | Rushi | Patel | GBR | THB 2,100.00 |
| 275 | Russell | Conrad | USA | THB 500.00 |
| 276 | Ruth | King-Tenison | GBR | THB 1,000.00 |
| 277 | Sally | Gentle | AUS | THB 100.00 |
| 278 | Sam | Bartram | GBR | THB 100.00 |
| 279 | Samantha | Hampton | AUS | THB 750.00 |
| 280 | Sara | Maclaurin | GBR | THB 1,000.00 |
| 281 | Sarah | Jones | USA | THB 500.00 |
| 282 | Sarah | Oakley | GBR | THB 500.00 |
| 283 | Sarah | Wilson | GBR | THB 500.00 |
| 284 | Saskia | Bensdorp | NET | THB 1,000.00 |
| 285 | Scott | Ashby | AUS | THB 2,100.00 |
| 286 | Scott | Jaynes | USA | THB 300.00 |
| 287 | Shai Choo | Goh | MAS | THB 1,000.00 |
| 288 | Shanda | Steimer | USA | THB 1,000.00 |
| 289 | Shane | Pielli | USA | THB 500.00 |
| 290 | Simone | Schofield | AUS | THB 2,000.00 |
| 291 | Song Yang | Loh | SIN | THB 100.00 |
| 292 | Sophie | Magdziarz | GBR | THB 1,000.00 |
| 293 | Sophie | Tonnoir Pereira | FRA | THB 2,000.00 |
| 294 | Soraya | Hearn | AUS | THB 1,000.00 |
| 295 | SRIDHAR | Venkataraman | IND | THB 1,000.00 |
| 296 | STEPHANE | GRIPON | FRA | THB 400.00 |
| 297 | Stephane | Lanctot | SUI | THB 400.00 |
| 298 | Stephen | Blackburn | GBR | THB 200.00 |
| 299 | Steve | Finch | GBR | THB 100.00 |
| 300 | Steven | King | AUS | THB 1,000.00 |
| 301 | steven | mccullough | GBR | THB 1,000.00 |
| 302 | Sumiko | Kohama | JPN | THB 1,000.00 |
| 303 | Susan | Lau | GER | THB 500.00 |
| 304 | Suzanne | Claassen | USA | THB 100.00 |
| 305 | Takeshi | Muto | JPN | THB 400.00 |
| 306 | Tania | Caleffi | BRA | THB 400.00 |
| 307 | Tanja | Pelle | NET | THB 1,000.00 |
| 308 | Tara | Conrad | USA | THB 500.00 |
| 309 | theo | knegtel | NET | THB 1,000.00 |
| 310 | Thi Van | Nguyen | VIE | THB 200.00 |
| 311 | Thirapan | Narongkool | THA | THB 200.00 |
| 312 | Thomas | de Lange | NET | THB 500.00 |
| 313 | Thomas | Duffy | GBR | THB 1,000.00 |
| 314 | Thomas | McNerney | GBR | THB 5,000.00 |
| 315 | Tia Nastiti Purwitasari | Supari | INA | THB 200.00 |
| 316 | Tiat | Wilkinson | AUS | THB 1,000.00 |
| 317 | timothy | charlton | AUS | THB 1,000.00 |
| 318 | Timothy | Quast | USA | THB 300.00 |
| 319 | Udo | Fischer | GER | THB 100.00 |
| 320 | Ushio | Kohama | JPN | THB 1,000.00 |
| 321 | Vilai | Sae Ngow | THA | THB 1,000.00 |
| 322 | Wanda | Callahan | USA | THB 500.00 |
| 323 | wayne | abraham | CAN | THB 400.00 |
| 324 | Wenmin | Ou | CHN | THB 1,000.00 |
| 325 | William | Fraser | AUS | THB 2,000.00 |
| 326 | Yue | Wang | USA | THB 300.00 |
| 327 | Zheng | Wang | CHN | THB 100.00 |
| | | | Total | |
| | | | | |
| | | | | |

| No | First Name | Last Name | Nation | Donate |
| --- | --- | --- | --- | --- |
| 1 | Aaron | quinn | GBR | THB 1,500.00 |
| 2 | Adam | Sandelovsky | USA | $10.00 |
| 3 | Adrien | De Courval | FRA | $4.00 |
| 4 | Alexis | SCHEID | FRA | $1.00 |
| 5 | Alix | Mouret | FRA | $30.00 |
| 6 | Amaury | Canals | FRA | THB 480.00 |
| 7 | Andrew | Main | RSA | $10.00 |
| 8 | Andrew | Riddick | GBR | THB 2,000.00 |
| 9 | Andrew | Weiser | USA | THB 1,000.00 |
| 10 | Andrew | Wigg | AUS | $20.00 |
| 11 | Andy | Hoatson | GBR | $50.00 |
| 12 | Anthony | Stiefel | GER | $20.00 |
| 13 | Antony | Linden | GBR | $25.00 |
| 14 | Arlindo Jorde | de Mendonca e Silva | POL | THB 3,600.00 |
| 15 | Arnaud | COCHART | FRA | $100.00 |
| 16 | Arnaud | Pieton | FRA | $10.00 |
| 17 | Asher | Galvin | AUS | THB 1,000.00 |
| 18 | Bastian | Van Halder | NED | $10.00 |
| 19 | Benjamin | Thiphagne | FRA | $40.00 |
| 20 | Bill | Watson | USA | $20.00 |
| 21 | Bjoern | Hoellger | GER | $1.00 |
| 22 | Brice | Le gallo | FRA | $100.00 |
| 23 | Cem | Bilgi | FRA | $5.00 |
| 24 | Cetin | Kara | TUR | $50.00 |
| 25 | Charles | Gras | FRA | THB 200.00 |
| 26 | Chi Wa Eric | L:ee | HKG | $50.00 |
| 27 | Ching Chuen | Chan | HKG | $100.00 |
| 28 | Chris | Russell | GBR | $30.00 |
| 29 | Christian | Cook | AUS | $20.00 |
| 30 | Christian | Roland | GER | THB 1,000.00 |
| 31 | Christophe | Bouculat | FRA | $100.00 |
| 32 | Christopher | Gordon | GBR | THB 1,000.00 |
| 33 | Christopher | Larkin | THA | THB 200.00 |
| 34 | Chun Wing | Tam | HKG | $500.00 |
| 35 | Chung Hon | Mok | HKG | $20.00 |
| 36 | Colin | Vaughan | AUS | THB 2,310.00 |
| 37 | Damien | Latini | SUI | THB 1,000.00 |
| 38 | Dan | Falconar | GBR | $20.00 |
| 39 | Daniel | Allison | NZL | $40.00 |
| 40 | Daniel | Fallows | GBR | $500.00 |
| 41 | Daniel | Londono | AUS | THB 200.00 |
| 42 | David | Thomas | GBR | $500.00 |
| 43 | David | Zhang | HKG | $50.00 |
| 44 | Derrick | Morse | USA | $25.00 |
| 45 | DIEGO | MADURGA DIEZ | ESP | $50.00 |
| 46 | Dieter | Baekelandt | FRA | THB 1,000.00 |
| 47 | Edward | Fitzpatrick | USA | $10.00 |
| 48 | Evan | Roe | USA | THB 100.00 |
| 49 | Floris | Wesseling | NED | $100.00 |
| 50 | Franck | Scherer | FRA | THB 1,000.00 |
| 51 | Fraser | Thompson | AUS | $10.00 |
| 52 | Fred | Tangelder | NED | $10.00 |
| 53 | FREDERIC | DEMESY | SUI | $200.00 |
| 54 | Georg | Achterkamp | GER | $50.00 |
| 55 | Gilles | Pivon | FRA | $30.00 |
| 56 | Gilles | THIERRY | FRA | THB 1,000.00 |
| 57 | Graeme | Stephenson | GBR | $30.00 |
| 58 | Graham | Lee | SIN | THB 2,500.00 |
| 59 | Gregory | SImpson | ITA | THB 500.00 |
| 60 | Guillem | Vidal | SIN | $25.00 |
| 61 | Gunjan | Bhatt | IND | $1.00 |
| 62 | Hamish | Norrie | NZL | $50.00 |
| 63 | Harald | Guldahl | NOR | THB 2,000.00 |
| 64 | Henrik | Clausen | DEN | THB 2,500.00 |
| 65 | Hidehiro | Tsukamoto | JPN | $25.00 |
| 66 | Inge | Bursell | SWE | $20.00 |
| 67 | ISAO | SATO | JPN | $10.00 |
| 68 | Jacob | Anderson | AUS | THB 1,000.00 |
| 69 | Jacques | BAUME | SUI | THB 1,000.00 |
| 70 | James | Gale | USA | $100.00 |
| 71 | James | Pearson | GBR | $50.00 |
| 72 | Jean | Michoud | FRA | $10.00 |
| 73 | Jean Marc | Pesson | FRA | THB 1,000.00 |
| 74 | Jetro | Asis | PHI | $10.00 |
| 75 | Johannes | Greve | NED | $10.00 |
| 76 | Jonathan | Funkhouser | USA | $20.00 |
| 77 | Jonathan | Ziegler | USA | $10.00 |
| 78 | Joshua | Rotbart | HKG | $10.00 |
| 79 | Juergen | Fiedler | GER | $5.00 |
| 80 | Jun | Yoshida | JPN | $10.00 |
| 81 | Ka Fai | Chan | HKG | $4.00 |
| 82 | Kazunori | Yamaguchi | JPN | $34.00 |
| 83 | Ken | Lu | HKG | $33.00 |
| 84 | Kenneth | Murdoch | GBR | $10.00 |
| 85 | Kerry | Houghton | USA | $50.00 |
| 86 | Kevin | Leonard | BEL | $20.00 |
| 87 | Kritapas | Siripassorn | THA | $15.00 |
| 88 | Kurt | nass | GER | $1.00 |
| 89 | Lars | Johansson | SWE | THB 200.00 |
| 90 | Laurent | Morel | FRA | $10.00 |
| 91 | LEI KWAN | LI | HKG | $10.00 |
| 92 | Len | Giroday | CAN | $10.00 |
| 93 | Leon | Valdes | AUS | $34.00 |
| 94 | Leonardo | Malaguti | ITA | $15.00 |
| 95 | Lewis | Wood | SIN | $50.00 |
| 96 | Louis | Louis Wong | SIN | $1.00 |
| 97 | Malcolm | Foster | USA | THB 500.00 |
| 98 | Man | Cheung | AUS | $100.00 |
| 99 | Mario | Ferro | ITA | THB 300.00 |
| 100 | Mario | Viarengo | ITA | $10.00 |
| 101 | Mark | Burrough | GBR | $10.00 |
| 102 | Mark | Hollingworth | GBR | $100.00 |
| 103 | Mark | Wakeford | GBR | THB 5,000.00 |
| 104 | Martin | Hrastic | GBR | $50.00 |
| 105 | Martin | Karlsson | SWE | $80.00 |
| 106 | Matthew | See | GBR | $100.00 |
| 107 | Matthew | Simmons | GBR | $50.00 |
| 108 | Matthias | Coessens | BEL | THB 190.00 |
| 109 | Michael | Krause | USA | $25.00 |
| 110 | Michael | Krinner | AUT | $20.00 |
| 111 | Michael | Kutzman | USA | $10.00 |
| 112 | Michael | Migdoll | GBR | $50.00 |
| 113 | Michel | BREGEON | FRA | THB 500.00 |
| 114 | Michihisa | Miyahara | JPN | $2.00 |
| 115 | Minh | Ha | VIE | $50.00 |
| 116 | Miroslav | Nikolov | CAN | $10.00 |
| 117 | Naoki | Furukawa | JPN | $10.00 |
| 118 | Naoya | Okubo | JPN | THB 1,000.00 |
| 119 | Neil | Fitzgerald | IRL | $50.00 |
| 120 | Nicolas | Baume | SUI | THB 1,000.00 |
| 121 | Nicolas | CLEMENT | FRA | $10.00 |
| 122 | Nicolas | Pai | FRA | $15.00 |
| 123 | Olivier | Legrand | FRA | $100.00 |
| 124 | Pablo | Morales Canedo | ESP | THB 1,000.00 |
| 125 | Patrick | Koebel | GER | THB 2,000.00 |
| 126 | Patrick | Looram | THA | THB 3,000.00 |
| 127 | Patrick | Renouf | GBR | $20.00 |
| 128 | Paul | Flipse | NED | THB 5,000.00 |
| 129 | Pavel | Toropov | GBR | $1.00 |
| 130 | Peter | Barnes | AUS | THB 1,000.00 |
| 131 | Peter | Fritz | CAN | THB 1,000.00 |
| 132 | Phil | Smyth | GBR | $10.00 |
| 133 | Philipp | Koehler | GER | $20.00 |
| 134 | Philippe | Abraham | FRA | $30.00 |
| 135 | Philippe | DHANNONCELLES | FRA | $20.00 |
| 136 | Philippe | JOB | FRA | $15.00 |
| 137 | Pierre | Buise | NED | THB 1,000.00 |
| 138 | Pierre-Edouard | CROUZIER | FRA | THB 690.00 |
| 139 | Raphael | Vaquer | FRA | $15.00 |
| 140 | remi | galland | FRA | THB 190.00 |
| 141 | Renato | Straume Fogliani | GBR | $40.00 |
| 142 | Richard | Dawson | GBR | THB 1,000.00 |
| 143 | Richard | Kohler | RSA | $100.00 |
| 144 | Richard | Nurmi | USA | $100.00 |
| 145 | Robert | Fidoe | GBR | THB 2,700.00 |
| 146 | Russell | Amor | GBR | $25.00 |
| 147 | Russell | Bunker | GBR | $10.00 |
| 148 | Russell | Cooke | SIN | $20.00 |
| 149 | Sam | Bartram | GBR | $5.00 |
| 150 | Samuel WL | YEUNG | HKG | $20.00 |
| 151 | Sean | O`Connor | GBR | THB 1,000.00 |
| 152 | Sebastien | PUEL | FRA | $20.00 |
| 153 | SELIM | BARKAN | FRA | $15.00 |
| 154 | Shuhei | Gonohe | JPN | $4.00 |
| 155 | SIMON | BERNIE | NZL | $20.00 |
| 156 | Sorach | Chanthongkaew | THA | THB 1,000.00 |
| 157 | Stefan | Kirchner | GBR | $50.00 |
| 158 | Stefan | Van Den Hende | BEL | THB 190.00 |
| 159 | Stephen | Finch | GBR | THB 190.00 |
| 160 | Steven | King | AUS | $50.00 |
| 161 | Steven | Rogers | GBR | $20.00 |
| 162 | Sven | Radavics | AUS | $14.00 |
| 163 | Sweeann | Kee | MAS | THB 100.00 |
| 164 | TAICHI | ABIKO | JPN | $10.00 |
| 165 | TAK CHOI | LO | CHN | $50.00 |
| 166 | TAKUMI | OSANAI | JPN | THB 375.00 |
| 167 | Thomas | Alix | FRA | THB 300.00 |
| 168 | Thomas | Georget | FRA | $50.00 |
| 169 | Thomas | Gooding | GBR | $100.00 |
| 170 | Tim | Bennett | AUS | $20.00 |
| 171 | Tim | Foster | AUS | $10.00 |
| 172 | Tom | Wetzer | GER | $20.00 |
| 173 | Tommaso | Del re | GBR | $30.00 |
| 174 | Topher | Roberts | USA | THB 180.00 |
| 175 | Ulf | Wennblom | SWE | THB 275.00 |
| 176 | Wil | Fieldhouse | USA | $20.00 |
| 177 | Will | Shield | GBR | THB 500.00 |
| 178 | Willem | Both | NED | $50.00 |
| 179 | Yun suk | Joung | KOR | $10.00 |
| 180 | Zainal Abidin | Amat | SIN | THB 100.00 |
| 181 | Adela | Andrei | ROU | $20.00 |
| 182 | Aina | Md Hassan | MAS | $10.00 |
| 183 | Andrea | Petrillo | USA | $250.00 |
| 184 | Andrea | Stauffer | USA | $20.00 |
| 185 | Anne Hesjedal | Sending | NOR | $10.00 |
| 186 | Ariane | Edjtemai | FRA | $10.00 |
| 187 | Ashlee | Schroth | USA | $25.00 |
| 188 | Aueupsorn | Noonpakdee | THA | THB 200.00 |
| 189 | Ayumi | Harada | JPN | THB 100.00 |
| 190 | Barbara | Sterckmans | BEL | $18.00 |
| 191 | Beth | Chakravorty | USA | $25.00 |
| 192 | Brenda | Carr | USA | $20.00 |
| 193 | Cara | O'Meara | IRL | $100.00 |
| 194 | Carolin | Kramer | GER | $50.00 |
| 195 | Caroline | ERGETIE | SWE | THB 2,000.00 |
| 196 | Christine | CHEA | FRA | $10.00 |
| 197 | Christin-Marie | Boudgoust | GER | $10.00 |
| 198 | Czarina Keziah | Suarez | PHI | THB 500.00 |
| 199 | Deb | Carr | AUS | $50.00 |
| 200 | Duangjit | Jetchavalit | THA | THB 90.00 |
| 201 | Ellie | Tang | HKG | $20.00 |
| 202 | Emma | Davidson | GBR | $50.00 |
| 203 | Emma | Ryan | GBR | $100.00 |
| 204 | Eva | Danner | GER | $20.00 |
| 205 | Gaby | Geneser | COL | THB 200.00 |
| 206 | Gayle | Forbes | AUS | $200.00 |
| 207 | Gemma | Ferguson | GBR | $10.00 |
| 208 | Geraldine | Leung | CAN | $1.00 |
| 209 | Grace | Carroll | USA | $1.00 |
| 210 | Gunnhild a Rogvi | Olsen | DEN | $100.00 |
| 211 | HAIHONG | FU | CHN | $114.00 |
| 212 | HANSHUANG | ZHOU | CHN | $10.00 |
| 213 | Harriet | Robertson | GBR | $100.00 |
| 214 | Heike | Dransmann | GER | $100.00 |
| 215 | Heike | Friedrich | GER | $50.00 |
| 216 | Helen | Huang | CAN | $20.00 |
| 217 | Helen | Robinson | GBR | $25.00 |
| 218 | Helene | Loberg | SWE | $10.00 |
| 219 | Ikuyo | Yoshida | JPN | $10.00 |
| 220 | Jac | Rodrigo | SIN | $20.00 |
| 221 | Jacqueline | Wortley | CAN | $50.00 |
| 222 | Jane | Scott | GBR | $4.00 |
| 223 | Jay | Frame | AUS | $20.00 |
| 224 | Jhane | Manguerra | PHI | THB 1,000.00 |
| 225 | Jing | Zheng | CHN | $4.00 |
| 226 | Judianna | Barnes | AUS | THB 7,700.00 |
| 227 | Judy | Kay | NZL | $10.00 |
| 228 | Julie | Teng | FRA | THB 500.00 |
| 229 | Justine | Gray | GBR | THB 500.00 |
| 230 | Kate | Allen | GBR | THB 1,000.00 |
| 231 | Kate | Dunstan | AUS | $50.00 |
| 232 | Kate | Vaughan | AUS | $15.00 |
| 233 | Katie | Jones | NZL | $20.00 |
| 234 | Katja | Van der Hoek | GER | $66.00 |
| 235 | Katrien | Jans | BEL | $34.00 |
| 236 | Khanh | Nguyen | VIE | $10.00 |
| 237 | Kim | Bergman | SWE | THB 100.00 |
| 238 | Krystle | Edwards | AUS | $20.00 |
| 239 | LAUREN | DOUSE | GBR | $4.00 |
| 240 | Lauren | Roberts | GBR | $10.00 |
| 241 | Leishea | Grant | AUS | $50.00 |
| 242 | Leonie | Van Willigenburg | NED | $50.00 |
| 243 | Lily | Qian | USA | $4.00 |
| 244 | Lisa | McBurnie | AUS | THB 2,000.00 |
| 245 | Lorraine | Illing | GBR | THB 200.00 |
| 246 | Maria Bernadette | Van Beurden | NED | $1.00 |
| 247 | Mariane | Debefve | BEL | THB 190.00 |
| 248 | Marianne Kveberg | Guldahl | NOR | THB 2,000.00 |
| 249 | Marie | KRUGLER | FRA | $5.00 |
| 250 | Marie | Tyndall | IRL | $50.00 |
| 251 | Marion | Cambounet | FRA | $15.00 |
| 252 | Marjolein | Gräper | NED | $10.00 |
| 253 | Maryline | CHASTEL | FRA | THB 400.00 |
| 254 | Masako | Maeda | JPN | $10.00 |
| 255 | Maslina | Mohamed Jalani | SIN | $20.00 |
| 256 | Melanie | Fallows | GBR | THB 500.00 |
| 257 | Michele | THOREL | FRA | $100.00 |
| 258 | Michelle P | Makaew | SWE | $25.00 |
| 259 | Mika | Tokairin | JPN | $10.00 |
| 260 | miriam | riedelsheimer | GER | THB 200.00 |
| 261 | Nicola | Cottrell | AUS | $100.00 |
| 262 | Olivia | Chiu | AUS | $20.00 |
| 263 | Ouiza | BECHAR | FRA | $20.00 |
| 264 | Oyindamola | Gesinde | GBR | $10.00 |
| 265 | Pandora | Vickery | USA | $20.00 |
| 266 | Quynh | LE | FRA | $6.00 |
| 267 | Rachael | Feierstein | USA | $10.00 |
| 268 | Rintarn | Varatorn | THA | THB 2,000.00 |
| 269 | Sabine | Cazaux Maleville | FRA | $50.00 |
| 270 | Sabire Serap | Keskin | TUR | $100.00 |
| 271 | Samantha | Peters | AUS | $50.00 |
| 272 | Sandra | Campbell | GBR | $14.00 |
| 273 | Sandra | PINEDA | GBR | $14.00 |
| 274 | Shireen Zainudin | Zainudin | MAS | $20.00 |
| 275 | Susanne | Shaw | SWE | $50.00 |
| 276 | Tina Chi Mee | Fung | HKG | $10.00 |
| 277 | Ting Fang | Tay | SIN | $10.00 |
| 278 | Tomma | Ottjes | GER | $25.00 |
| 279 | Tone Cecilie | Lagset | NOR | THB 500.00 |
| 280 | Tsz Wai Jacqueline | Lam | HKG | $50.00 |
| 281 | Violaine | Chanteclair | FRA | $20.00 |
| 282 | Virginie | Gilkes | FRA | $20.00 |
| 283 | Yen Binh | Tran | VIE | $8.00 |
| 284 | Alan | Connolly | IRL | THB 500.00 |
| 285 | Alistair | Cook | GBR | $40.00 |
| 286 | Ashwin | Devineni | SIN | $20.00 |
| 287 | Bowyer | Neil | GBR | $20.00 |
| 288 | Christian | Hirschi | SUI | THB 100.00 |
| 289 | claude | liot | FRA | THB 1,000.00 |
| 290 | Eric | Hawken | CAN | $100.00 |
| 291 | Evan | Armstrong | AUS | THB 500.00 |
| 292 | Gordon | Hirons | CAN | $20.00 |
| 293 | Jae | Choi | USA | $100.00 |
| 294 | James | Stanczak | USA | $100.00 |
| 295 | James | Walton | GBR | $10.00 |
| 296 | Jan | De Bruijn | NED | $20.00 |
| 297 | Joshua | Green | GBR | $200.00 |
| 298 | Lee | Chandler | USA | $40.00 |
| 299 | Matthew | Sutherland | GBR | THB 1,000.00 |
| 300 | Meng Nico Hsiu | Wu | CAN | THB 200.00 |
| 301 | Michael | THIRAPOUNHO | FRA | $100.00 |
| 302 | Mike | Jackson | GBR | $60.00 |
| 303 | Richard | Caruso | USA | THB 2,500.00 |
| 304 | Stefan | Chamorro | USA | $50.00 |
| 305 | STEPHEN | COONEY | GBR | THB 1,100.00 |
| 306 | Tyler | Wendleken | GBR | $5.00 |
| 307 | Ushio | Kohama | JPN | THB 1,000.00 |
| 308 | Victor Fung Tuang | Lim | MAS | $30.00 |
| 309 | Yiu Chung Wilson | See | GBR | $10.00 |
| 310 | Alexandra | Villain Lecompte | FRA | THB 1,280.00 |
| 311 | Alison | Strange | GBR | $20.00 |
| 312 | Ana | Bonell | GBR | $100.00 |
| 313 | Anita | Curley | GBR | $10.00 |
| 314 | Anne | Davis | AUS | $25.00 |
| 315 | Bonnie | Smith | GBR | $20.00 |
| 316 | Charlotte | Lee | USA | THB 200.00 |
| 317 | DAN | WANG | CHN | $2.00 |
| 318 | Desiree | Quinn | CAN | $25.00 |
| 319 | Dian Octavika | Aristyani | INA | THB 400.00 |
| 320 | Elizabeth | Bismut | FRA | $1.00 |
| 321 | Emily | Klatt | USA | THB 200.00 |
| 322 | Esther | Boelhouwer | NED | $10.00 |
| 323 | Gulnrat | Samakkeenich | THA | THB 500.00 |
| 324 | Helen | McCormick | GBR | THB 900.00 |
| 325 | Hiroko | Horiuchi | JPN | THB 1,000.00 |
| 326 | Hsiu Hoon | Lim | MAS | $20.00 |
| 327 | Huan | Bian | CHN | $20.00 |
| 328 | Jacqueline | Browne | SIN | $15.00 |
| 329 | Janet | McAlpine | GBR | $10.00 |
| 330 | Jeanette | Clarke | AUS | $25.00 |
| 331 | Julie | Armstrong | AUS | THB 500.00 |
| 332 | Ka Wai | CHAN | HKG | $20.00 |
| 333 | Karine | Colyn | BEL | $40.00 |
| 334 | Kate | McFarlane | USA | $10.00 |
| 335 | Katherine | Grant | GBR | THB 3,500.00 |
| 336 | KEIKO | SHINONAGA | JPN | THB 400.00 |
| 337 | Kellie | Oxlade | AUS | THB 2,000.00 |
| 338 | Kibira | Sattieva | UZB | $10.00 |
| 339 | Koon Fong | Lee | HKG | $20.00 |
| 340 | Laurence | VU HUY DAT | FRA | $10.00 |
| 341 | Linda | Davies | GBR | $25.00 |
| 342 | Lydia | Pavlova | AUS | $30.00 |
| 343 | Marama | Schnitker | NZL | $100.00 |
| 344 | Megan | Payne | AUS | $50.00 |
| 345 | Melissa | Okuda | USA | $30.00 |
| 346 | Nancy | Willis | SIN | $10.00 |
| 347 | Philomène | Guilbert | FRA | $20.00 |
| 348 | Simonne | Densley | AUS | $20.00 |
| 349 | Sofia | Villacis | ECU | $15.00 |
| 350 | Sylvia | Pelzer | GER | $60.00 |
| 351 | Victoria | Cuthbertson | GBR | $20.00 |
| 352 | Yee Han | Chow | HKG | $20.00 |
| 353 | Yogita Kishanchand | Jethwani | IND | THB 25.00 |
| 354 | Yvonne | Wang | TPE | $20.00 |
| 355 | Celin | Leung | CAN | THB 600.00 |
| 356 | Liberty | Ayliffe | GBR | $20.00 |
| 357 | Linda | Halligan | CAN | $20.00 |
| 358 | Sumiko | Kohama | JPN | THB 1,000.00 |
| 359 | Yoko | Seki | JPN | $10.00 |
| 360 | Mrs. Janette | Clarke | AUS | $20.00 |
| 361 | Mrs. Maslina | | SGP | $15.00 |
| 362 | Mr. Graeme | Jacorbs | NZL | $35.50 |
| 363 | Mr. Yiu Hon Sang | Nicholas | | $20.00 |
| 364 | Mr. Cheng Sair Bun & Lam Wal Tong | | | $100.00 |

| BIB | Km | Family Name | Given Name | Donation | Gender | Nationality |
| --- | --- | --- | --- | --- | --- | --- |
| 1001 | 21Km | Abdul Gani | Ahmad | $20.00 | M | BRU |
| 1002 | 21Km | Adams | Jeremy | $5.00 | M | USA |
| 1021 | 21Km | CHENG-I | FAN | $5.00 | M | TPE |
| 1044 | 21Km | Grosperrin | Charles | $5.00 | M | FRA |
| 1047 | 21Km | Gurung | Yam Bahadur | $5.00 | M | NEP |
| 1052 | 21Km | Haythorpe | Graham | $5.00 | M | GBR |
| 1087 | 21Km | Kolesar | Robert | $5.00 | M | USA |
| 1107 | 21Km | Matsuo | Koji | $5.00 | M | JPN |
| 1124 | 21Km | okamoto | akifumi | $5.00 | M | JPN |
| 1127 | 21Km | Onodera | Yoshio | $5.00 | M | JPN |
| 1131 | 21Km | Pegg | Thomas | $5.00 | M | Welsh |
| 1132 | 21Km | Pellerey | Marco | $5.00 | M | ITA |
| 1191 | 21Km | TONOOKA | HISASHI | $5.00 | M | JPN |
| 1197 | 21Km | Vatar | Antoine | $5.00 | M | FRA |
| 1200 | 21Km | WEI | ZISHUN | $5.00 | M | CHN |
| 1205 | 21Km | Yamasaki | Nobby | $5.00 | M | JPN |
| 1349 | 21Km | SUEHIRO | MIWA | $5.00 | F | JPN |
| 1350 | 21Km | Suzuki | Keiko | $5.00 | F | JPN |
| 1351 | 21Km | Takahashi | Manami | $5.00 | F | JPN |
| 2027 | 10Km | BONAMY | Philippe | $5.00 | M | FRA |
| 2216 | 10Km | Hernandez Pena | Pedro | $5.00 | M | ESP |
| 2446 | 10Km | MacLeod | Niall | $50.00 | M | SCO |
| 2698 | 10Km | Sekiguchi | Yusuke | $5.00 | M | JPN |
| 2845 | 10Km | Thomas | Graham | $6.00 | M | GBR |
| 3591 | 10Km | Danielson | Melany | $5.00 | F | USA |
| 3594 | 10Km | Diaz Abreu | Monica Cristina | $5.00 | F | Spanish |
| 3878 | 10Km | Schots | Merle | $5.00 | F | NED |
| | | | | | | |

| Bib | Categories | First Name | Last Name | Gender | Donation | Nationality |
| --- | --- | --- | --- | --- | --- | --- |
| 1006 | 21Km | Robitchy | Argabio | M | $10.00 | PHI |
| 1046 | 21Km | Graham | Haythorpe | M | $10.00 | IVB |
| 2830 | 10Km | Siu Tat | Ng | M | $10.00 | CHN |
| 4485 | 10Km | Elizabeth | Southworth | F | $10.00 | USA |
| 2291 | 10Km | Dennison | Doss | M | $10.00 | MAS |
| 1080 | 21Km | Jay | Lamey | M | $10.00 | AUS |
| 1200 | 21Km | Joshua | Umansky-Castro | M | $10.00 | USA |
| 1330 | 21Km | TAKARA | MIYAUCHI | F | $10.00 | JPN |
| 1183 | 21Km | ChorHuat | Tan | M | $10.00 | MAS |
| 2315 | 10Km | Gary | Ellem | M | $10.00 | AUS |
| 1073 | 21Km | TOMOHIKO | KOMORO | M | $10.00 | JPN |
| 1221 | 21Km | Graeme | Winthrop | M | $10.00 | NZL |
| 1239 | 21Km | Anton | Yri | M | $10.00 | NZL |
| 3863 | 10Km | Fumie | Fukuoka | F | $10.06 | JPN |
| 5677 | 3Km | Jacques | LANDRIEAU | M | $11.13 | FRA |
| 5481 | 3Km | Yumi | Ishimoto | F | $10.00 | JPN |
| 2045 | 10Km | George | Brett | M | $10.06 | AUS |
---
---