The Khmer Empire Marathon (Known as Angkor Empire Marathon) 
07 August 2022 
The Khmer Empire- known as ancient Cambodia was the most powerful Empire in Southeast Asia.
The Angkor as the central area of settlement of the Kingdom of Khmer from the 9th to the 13th centuries. Which was the symbol of the ancient civilization of Khmer people and also revealed as the largest pre-industrial urban center in the world.[4]
The Angkor Empire Marathon will offer an exceptional opportunity for all runners around the world to experience the ancient course in the area of World heritage through nearly 40 ancient temples along the pretty smooth road race which almost cut through the national forest and rice field of villagers.
The 6th Angkor Empire Marathon has happened on 04 August 2019 with more than 3,500 runners from 49 countries, the 7th Khmer Empire Marathon will be hold on 07 August 2022 in the ancient city of Angkor Empire State of the last 11th century with expected over 4,000 runners. the runners of this race have got the unique experience with the ancient atmosphere and natural scenery along the road race through forest rice fields , traditional villages and ancients temples in the heart of Angkor Era.
The Cambodian Events Organizer team with national and international organizations would like to invite all professional and amateur runners around the world come to participate this exceptional marathon event to show the ultimate friendship and kind support to disabled people and poor children in Cambodia.
We are waiting for offering you all the most warmly welcome and the best arrangement for your beautiful race in the area of ancient Khmer Civilization.
Best wishes to all lovely runners!
Organizing committee.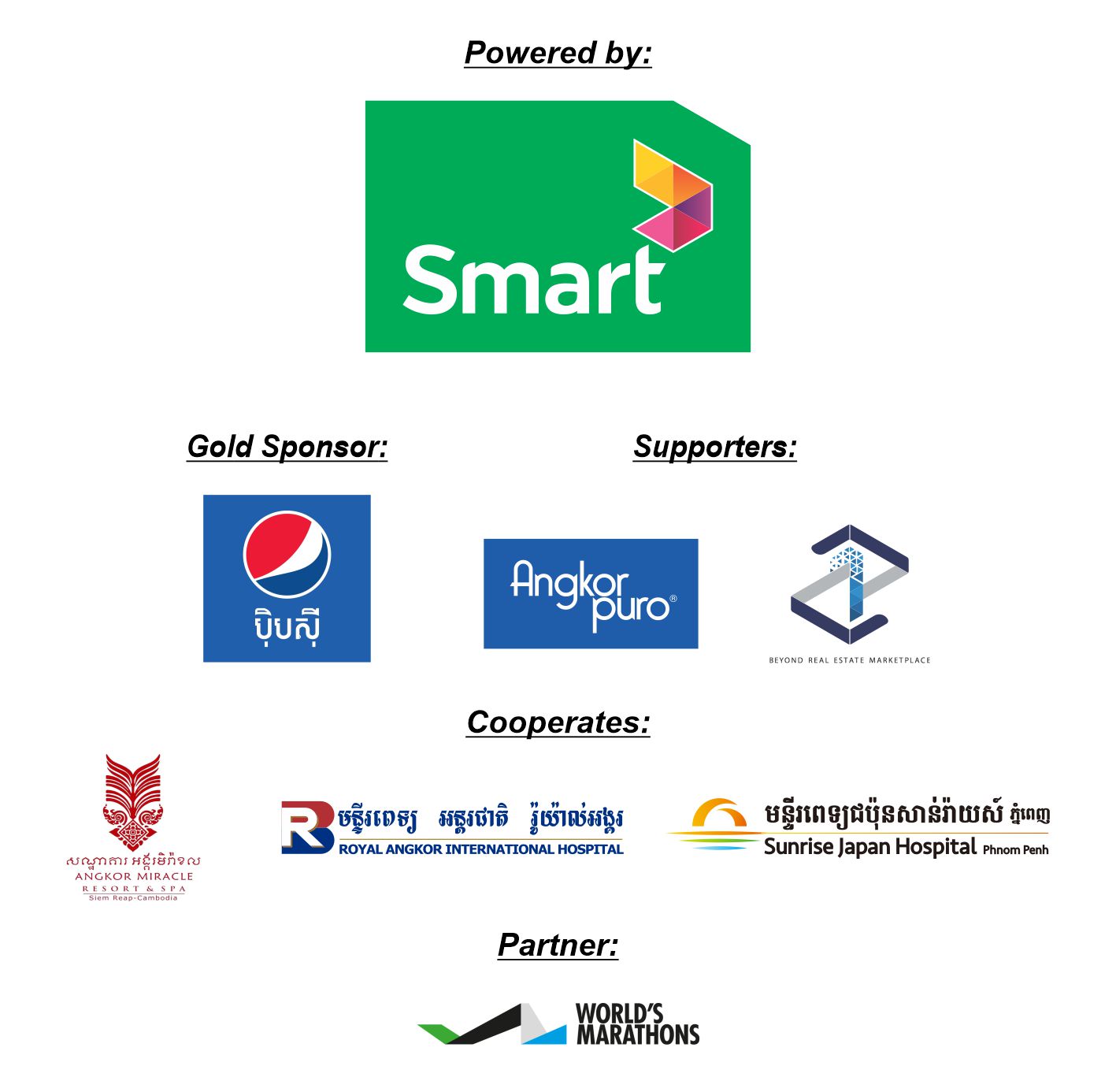 Event Date & Time Schedule
Event Date & Time: Sunday, August 07, 2022 - 4:30am to 11:00am

Race Venue: In front of Angkor Wat Temple, Siem Reap, Cambodia.


Notice: All participants should arrive at the start and finish line at least 30mn before the start time.


Access to Running Course:
From the Siem Reap town to the Angkor Wat temple (start point) around 6km .It takes 20 minutes by Motor Remoque (Tuk Tuk) and 15minutes by Taxi or Bus. All participants of Angkor Empire Marathon must arrive the event place at least 30minutes before the starting time.
Benefits for all runners
KEM committee will provide Finisher-Medal for 42Km, 21km & 10km for completed runners at Finishing area, and Running Certificate for 3km completed runners after the race. Free Foods & drinks will be served at the Finish Area.
Refreshments & other set up along the course
- Every 2km the water station is set up for delivering water and electrolyte drinks to all runners. Some water stations also serve banana together with drinks.
- Check point for the Bib tag timing was set up at Angkor Thom (for 42Km at west of Banteay Samre) and near Angkor Wat area.
- Every distance of 1Km or 2Km on the running course will be marked by a sign board on the right side of the road.
Race Results
The record will be posted in the Cambodia Events Organizer website 1 day after the event.
Course Condition:
Khmer Empire Full Marathon is flat course with ancient tree along the course. There are around 17 ancient temples along the course. The runners can enjoy to take photos during running. It is unique course inside the world heritage area.
* Minority who participates in Kids race need the guardian's signature on the Waver Clause at the final confirmation site ( Angkor Miracle Resort & Spa From: 05-06 August 2022 )
If you couldn't come to pick up your race pack during final confirmation date, you should make a letter attached with your confirmation sheet pass it to your relation so they could pick up instead of you.
The registration after the deadline 04 July will not be accepted.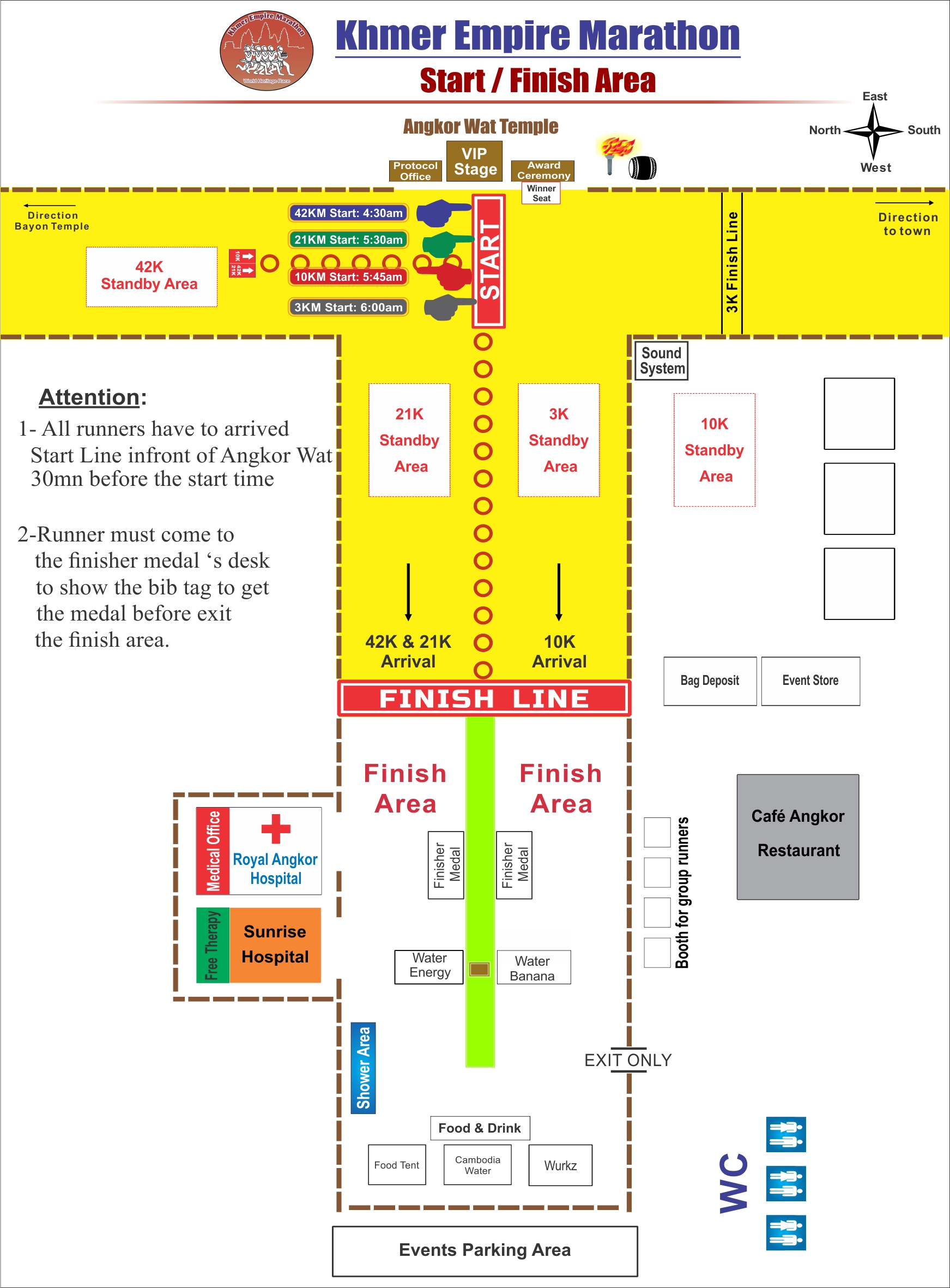 ** The Event organizer will do its best to provide you with T-shirt size ordered. However, if the T-shirt sizes run out, the Event Organizer will provide you with the best available size.

1. Registration method:
1. Online Registration (for oversea runners)
Our International Races are certified by AIMS and sanctioned by IAAF, please select your corresponding category in the registration platform.
Online Registration for Worldwide Runners, You can register to the race by one of the following registration links:
- Registration link through World's Marathons : Click Here
2. Onsite Registration ( for runners living in Cambodia )
The registration form can be downloaded below:
-  In English (Foreigner who are resident in Cambodia)
-  In Cambodian (for Cambodian People)
** Please print and complete the above registration form and submit them together with the payment at our registration offices located at:
** All expatriate participants should go to representative office of KEM Committee registration office (PNH & REP) as mention above to fill in application form and payment with special rate.
The race entry included:
- An event Singlet
- A Finisher's Medal (For Marathon, Half Marathon & 10km)
- A Finisher's T-shirt (For Marathon and Half Marathon)
- An E-Certificate for completing the race
- A personalized bib tags (For Marathon, Half Marathon and 10km)
- A personalized race bib
- A sponsor's goodies (based on availability)
Registration Deadline & Race Kit collection:
Registration deadline: 04 Jul, 2022 at 17:00 (Cambodia Time)
Online-registration will not accepted for late participants after deadline
Onsite registration is based on our availability with limited spaces at Race Kit exposition which located Angkor Miracle Resort & Spa between on

05 - 06 August, 2022 @9:00am-6:00pm.

Address: National Road 6, Khum Sro-nge Siem Reap Siem Reap, 17260, Kingdom of Cambodia. Hotel telephone: (+855)63 969 900  Exhibitor mobile: 015 213 525 | 069 213 525, ==> Google Map )
Important Note:
Please note that the above rates exclude 7% handling fee.

Entry fees exclude VAT.

You will be registered immediately upon we had received the payment in our bank account and please send us the bank slip of payment after you transferred it.
The bank charges incurred by transfer must be paid by the participants.
Entry fees are not deducted from amount remitted (The runner must cover both service fee).
Online registration will close on 04 Jul 2022 (23:59, Singapore Time)

Entry is non-refundable

Entry is non-transferable to another competitor

Entry is non-transferable to next year's competition or other events

Bib Number should be pinned in front of your running shirt/singlet in a visible way.
Change of race distance: You are required to pay the difference between the applicable fee at the time of change and the fee you originally paid if fee for new race distance is higher (No refund if fee for new distance is lower), It is accepted before the deadline and the changing race should be endured the extra admin fee of USD 20 ).
The completed form of group list would be send it at least two weeks (14days) before deadline
Make sure that you have read and understand the Race Rules.
2. Course Inspection (To Be Advise)
** All registration-fees of Course Inspection and Dinner Party are non-refundable and non-transferable!


- Charity Donation:

Donors will definitely receive the thank you letter from the Marathon Committee.
As the main purpose of our events is charity events, we are trying the best contribution to the cause of building a better future for young generation of Cambodia through physical education of sport events and financial supports to poor children in the hospitals, disable people of landmines. Within the period of more than 23 years we have been working with some charitable NGOs to support their projects and also support to Angkor children hospital, Cambodian Red Cross, Kantha Bopha Children's Hospital, Cambodian Trust, Handicap International Belgium, Cambodia disable athletic federation, Kruasa Thmey, Mekong du Enfants… Therefore one part of your participation fee will certainly go to the charity account and especially any of your big or small donation will bring an important  benefit to the people in need.
Each event, we have its platform for your kind donation through online or on-site.
Thank you so much for your kind concern to participate in supporting our charitable target.
Your donation will be shown in our website of each event and also a thank you letter from the Organizing Committee will be delivered to you.
Booking now!
Tel : (+855)23 213 525  |  H/P: (+855)69 213 525 / (+855)87 665 569
Email : sales@cambodia-events.org   | info@cambodia-events.org
| No | First Name | Last Name | Nation | Donate |
| --- | --- | --- | --- | --- |
| 1 | HIROAKI | HOSHINA | JPN | $5.00 |
| 2 | Guilherme | Silva   | GBR | $10.00 |
| 3 | YUN YANG | CHEN | TPE | $10.00 |
| 4 | Kah Im | Goh | MAS | $34.00 |
| 5 | Lau Wing    | CHAN   | | $50.00 |
| 6 | Noriyuki | Amano  | JPN | $28.00 |
| 7 | Jeroen      | Adeler           | NET | $5.00 |
| 8 | Brian  | Smith | | $50.00 |
| 9 | Mark  | Johnson  | | $10.00 |
| 10 | Ahmad Abdillah | AdullRahman | SIN | $15.00 |
| 11 | Martti | Siniharju    | | $10.00 |
| 12 | Angela | Trixl  | NZL | $5.00 |
| 13 | Ronnie Brandorff  | Jensen | | $10.00 |
| 14 | Roy | Trani  | PHI | $5.00 |
| 15 | Gaetan  | Morizur     | | $10.00 |
| 16 | Yuto | Urano | JPN | $1.00 |
| 17 | NAGATO | TANAKA  | JPN | $1.00 |
| 18 | Rick | Thiounn   | USA | $10.00 |
| 19 | William | William   | INA | $3.00 |
| 20 | David | Fontaine    | FRA | $10.00 |
| 21 | YQ  | Ang   | | $10.00 |
| 22 | Ying Ying   | He       | | $10.00 |
| 23 | Stephane | Puchala     | | $1.00 |
| 24 | Toru  | Yamakado | JPN | $30.00 |
| 25 | MAYUMI  | HOTTA       | JPN | $5.00 |
| 26 | Wei Li  | Chang | | THB 100.00 |
| 27 | Ferdinando     | sorrentino   | ITA | THB 500.00 |
| 28 | Tak Hong | Mak | CHN | THB 500.00 |
| 29 | Chun Chung    | Kam | CHN | THB 500.00 |
| 30 | Peter  | Lundberg  | SWE | THB 1,500.00 |
| 31 | Hamish    | Colligan  | USA | THB 1,000.00 |
| 32 | Shirley   | Shepherd  | | THB 200.00 |
| 33 | Kunihiko  | ouchi  | | THB 100.00 |
| 34 | Daqing  |   Mao   | | THB 1,000.00 |

| No | First Name | Last Name | Nation | Donate |
| --- | --- | --- | --- | --- |
| 1 | Ashleigh | Ashleigh Cotterill | GBR | $10.00 |
| 2 | Axel | Samuelsson | SWE | THB 80.00 |
| 3 | Barry | Stanford | GBR | $30.00 |
| 4 | Bok Hong | Ser | SIN | $50.00 |
| 5 | CHENGJIANG | WANG | CHN | $5.00 |
| 6 | Christian | Douaychristian | FRA | $20.00 |
| 7 | Christina | Virojanavat | USA | THB 150.00 |
| 8 | Christopher | Snodgrass | AUS | THB 20.00 |
| 9 | Dai | Matsui | JPN | $10.00 |
| 10 | Eddy | Angkawibawa | INA | THB 80.00 |
| 11 | Fuad | Shennib | USA | $1.00 |
| 12 | Harneshpal | Karamjit Singh | MAS | $3.00 |
| 13 | Helene | Loberg | SWE | $10.00 |
| 14 | Hiroshi | Kamiya | JPN | $2.00 |
| 15 | Jackie | Militello | USA | $20.00 |
| 16 | James | Goodwin | GBR | $40.00 |
| 17 | Jeanette | Won | SIN | $5.00 |
| 18 | Jenelle | Dellar | AUS | THB 2,000.00 |
| 19 | JING | ZHANG | CHN | $10.00 |
| 20 | Joanna | Voogd | NED | THB 1,000.00 |
| 21 | Ka Hing | Cheng | HKG | $5.00 |
| 22 | Kaspar | Roelle | DEN | $4.00 |
| 23 | Kathrin | Puff | GER | THB 200.00 |
| 24 | Katsuhiro | Uno | JPN | $5.00 |
| 25 | KOK HOE | LEE | MAS | $3.00 |
| 26 | Lachlan | Evans | AUS | $18.00 |
| 27 | Lachlan | Fraser | AUS | $20.00 |
| 28 | Leanne | Hughes | AUS | THB 30.00 |
| 29 | Lemlem | Hiruy | ERI | $20.00 |
| 30 | Louise | Hennessey | GBR | $10.00 |
| 31 | Man Yee | Ng | HKG | $1.00 |
| 32 | Marie-Louise | Fredriksson | SWE | THB 300.00 |
| 33 | Maturin | Tchoumi | CMR | $6.60 |
| 34 | Minh | Ha | VIE | $50.00 |
| 35 | Na | Lin | CHN | $4.00 |
| 36 | Nikhil | Manchharam | SIN | $2.00 |
| 37 | Noriyuki | Amano | JPN | $30.00 |
| 38 | Pasree | Lee | MAS | $10.00 |
| 39 | Paul | Brunning | GBR | THB 80.00 |
| 40 | Peter | Lundberg | SWE | $25.00 |
| 41 | Peter | Townson | GBR | $10.00 |
| 42 | Pongskorn | Pongwattanasuk | THA | THB 1,000.00 |
| 43 | Richard Arthur | Yew | SIN | $1.00 |
| 44 | Rick | Thomas | AUS | $5.00 |
| 45 | Robbie | Brozin | RSA | $10.00 |
| 46 | SAKIE | ISHIBASHI | JPN | $1.00 |
| 47 | Shang | Wen | CHN | $8.00 |
| 48 | Shu Chen | Wu | TPE | THB 1,000.00 |
| 49 | SHUJIA | CHEN | CHN | $10.00 |
| 50 | Sylvain | Daniel | FRA | THB 420.00 |
| 51 | Takumi | Katsumoto | JPN | $10.00 |
| 52 | Teresa | McMillan | USA | $1.00 |
| 53 | Vishnunadan | Muniandy | MAS | THB 1,000.00 |
| 54 | Wai kwan | Li | HKG | $33.00 |
| 55 | YING | MIAO | CHN | $8.00 |
| 56 | YUKA | UEDA | JPN | $5.00 |
| 57 | Yung Kam Rain | So | HKG | THB 500.00 |
| 58 | ZHONGMING | ZHU | CHN | $8.00 |
| 59 | Russell | CRANE | AUS | $20.00 |
| 60 | Suzanne | CRANE | AUS | $20.00 |
| 61 | Tom | READ | USA | $10.00 |
| | | Donation Total in USD | | $589.60 |
| | | Donation Total in THAI BAHT | | THB 7,860.00 |
| | | | | |
| The Angkor Empire Full & Half Marathon have donate to Angkor Hospital for Children USD 4,000 | | | | |
| | | | | |
| | | | | |
| | | | | |
| | | | | |
| | | | | |

| No | First Name | Last Name | Nation | Donate |
| --- | --- | --- | --- | --- |
| 1 | Sing yee | Wang | SIN | $10.00 |
| 2 | Grzegorz | Ostrowski | POL | $10.00 |
| 3 | Sebastian | Skradde | GRB | $10.00 |
| 4 | Ying | pan | GER | $20.00 |
| 5 | Yasuji | Seki | JPN | $10.00 |
| 6 | Douglas | Carrell | USA | $20.00 |
| 7 | Joanne | Law | CAN | $30.00 |
| 8 | Cecilia | Soller | FRA | $10.00 |
| 9 | Gunter | Emmerich | GER | $30.00 |
| 10 | Raja Zana Nadiah | Raja Izuddin Chulan | MAS | $10.00 |
| 11 | Kenneth | Murdoch | UK | $20.00 |
| 12 | Annette | Bohnes | GER | $10.00 |
| 13 | Robert | Bender | USA | $20.00 |
| 14 | Yuji | Tsumura | JPN | $1.00 |
| 15 | Lu | Zhao | SIN | $10.00 |
| 16 | James | Walton | UK | $10.00 |
| 17 | Niwas | Nallasamy | IND | $1.00 |
| 18 | Courtney | Detring | USA | $15.00 |
| 19 | Toshiaki | Sakai | JPN | $35.00 |
| 20 | Zhuoyao | Hui | CHN | $10.00 |
| 21 | Luhang | Chen | CHN | $1.00 |
| 22 | Yvonne | Wang | TPE | $20.00 |
| 23 | Iris Pei-Hsuan | Chou | TPE | $50.00 |
| 24 | Jenny | Chok | MAS | $50.00 |
| 25 | Koichi | Yoshikawa | JPN | $50.00 |
| 26 | Philip | Higginson | UK | $20.00 |
| 27 | John | Arnold | UK | $10.00 |
| 28 | Waki | Tanaka | JPN | $10.00 |
| 29 | Colin | Dooley | IRL | $10.00 |
| 30 | Shao ling | Chen | CHN | $5.00 |
| 31 | Gavin | Thompson | UK | $10.00 |
| 32 | Kazuhiro | Iwai | JPN | $5.00 |
| 33 | Min | Zhang | CHN | $1.00 |
| 34 | Hua | Sun | CHN | $1.00 |
| 35 | Sophie | Olson | USA | $10.00 |
| 36 | Koichi | Murakawa | JPN | $2.00 |
| 37 | Yutaka | Arisawa | JPN | $10.00 |
| 38 | Youmei | Cui | CHN | $1.00 |
| 39 | Hung-Sen | Yu | TPE | $30.00 |
| 40 | Matthew | McAllister | USA | THB 1,000.00 |
| 41 | Elaine | MacDonald | UK | THB 2,780.00 |
| 42 | Supaporn | Pinchai | THA | THB 1,000.00 |
| 43 | Mark | Fisher | UK | THB 2,000.00 |
| 44 | Narongchai | kunplome | THA | THB 1,000.00 |
| 45 | Supitcha | Jivamongkol | THA | THB 200.00 |
| 46 | Tonya Ann | Booher | THA | THB 300.00 |
| 47 | Grzegory | OSTROWSKI | POL | $100.00 |
| 48 | Thien Hui | TAY | MAS | $10.00 |
| 49 | Karen | Sabrino | RUS | $20.00 |
| 50 | Choolathileka | Talawatte | MAS | $5.00 |
| 51 | Bobby | John | MAS | $5.00 |
| 52 | Vevegananthan | Tacnamurti | MAS | $5.00 |

| BIB | Distance | Given Name | Family Name | Gender | Nation | Donation |
| --- | --- | --- | --- | --- | --- | --- |
| 1004 | 42Km | SAEPUL | AJHAR | M | IDN | THB 100.00 |
| 1005 | 42Km | FAUZY | ALFIANNUR | M | IDN | THB 100.00 |
| 1009 | 42Km | Edwin | Belcher | M | NZL | THB 100.00 |
| 1010 | 42Km | Artit | Boonrod | M | THA | THB 100.00 |
| 1024 | 42Km | WEERAWIT | CHAROENCHAIYANUN | M | THA | THB 100.00 |
| 1029 | 42Km | TAU-LUNG | CHEN | M | TWN | THB 100.00 |
| 1045 | 42Km | STEPHEN RICHARD | COLEMAN | M | GBR | THB 100.00 |
| 1052 | 42Km | Tatsuyoshi | Demizu | M | JPN | THB 1,000.00 |
| 1053 | 42Km | Hai | Do | M | VNM | THB 100.00 |
| 1067 | 42Km | Petrus Minggu | Garadus | M | MYS | THB 100.00 |
| 1070 | 42Km | Chrysanthus | Gerardus | M | MYS | THB 100.00 |
| 1073 | 42Km | Craig | Glasson | M | AUS | THB 100.00 |
| 1074 | 42Km | Peter | Goldrick | M | AUS | THB 1,000.00 |
| 1078 | 42Km | FIRMAN | GUNAWAN | M | IDN | THB 100.00 |
| 1083 | 42Km | ABDUL | HARIS | M | IDN | THB 100.00 |
| 1125 | 42Km | Vojtech | Knespl | M | CZE | THB 200.00 |
| 1146 | 42Km | Sze Ho | Lee | M | HKG | THB 100.00 |
| 1159 | 42Km | MING-TE | LIN | M | TWN | THB 100.00 |
| 1171 | 42Km | Waratisre | Liwrueangkul | M | THA | THB 100.00 |
| 1173 | 42Km | MHD MUSTAQIM | LUBIS | M | IDN | THB 100.00 |
| 1175 | 42Km | Damien | marchenay | M | FRA | THB 200.00 |
| 1183 | 42Km | Simone | Montaldi | M | ITA | THB 270.00 |
| 1202 | 42Km | NOVIANDY | NOVIANDY | M | IDN | THB 100.00 |
| 1203 | 42Km | RIDWAN | NUGRAHA | M | IDN | THB 100.00 |
| 1220 | 42Km | KRITSADA | POLPASI | M | THA | THB 100.00 |
| 1223 | 42Km | PRAWONO | PRAWONO | M | IDN | THB 100.00 |
| 1224 | 42Km | Barney | Price | M | USA | THB 1,485.00 |
| 1230 | 42Km | UKRIT | RITTIDEJ | M | THA | THB 100.00 |
| 1237 | 42Km | LIE BUDI | SANJAYA | M | IDN | THB 100.00 |
| 1243 | 42Km | Kurando | Seike | M | JPN | THB 100.00 |
| 1288 | 42Km | Jeerasak | Tanvedchakul | M | THA | THB 100.00 |
| 1310 | 42Km | GUNAWAN PRIO | UTOMO | M | IDN | THB 100.00 |
| 1325 | 42Km | Takashi | Watari | M | JPN | THB 100.00 |
| 1326 | 42Km | Theethach | Watthanatidpong | M | THA | THB 100.00 |
| 1345 | 42Km | ZHENG WU | WU | M | CHN | THB 100.00 |
| 1502 | 42Km | Nittisom | Apinantorn | F | THA | THB 100.00 |
| 1503 | 42Km | Magalie | Ascoop | F | BEL | THB 100.00 |
| 1513 | 42Km | Kuan Yen | Chong | F | MYS | THB 100.00 |
| 1514 | 42Km | Dollie | Chu | F | MYS | THB 100.00 |
| 1517 | 42Km | Fiona | Coad | F | GBR | THB 200.00 |
| 1529 | 42Km | Samantha | Goldrick | F | AUS | THB 400.00 |
| 1532 | 42Km | Shiho | Hasebe | F | JPN | THB 100.00 |
| 1548 | 42Km | CHIA-YIN | KU | F | TWN | THB 100.00 |
| 1571 | 42Km | Thao | Nguyen | F | VNM | THB 100.00 |
| 1578 | 42Km | BONGKOCH | PIRIYAWITTAYA | F | THA | THB 100.00 |
| 1580 | 42Km | Walla | Ratthanabralee | F | THA | THB 100.00 |
| 1598 | 42Km | HUI-CHUN | TSAO | F | TWN | THB 100.00 |
| 1605 | 42Km | JOU-MEI | WANG | F | TWN | THB 100.00 |
| 1612 | 42Km | Wassana | Worapatdikul | F | THA | THB 100.00 |
| 2017 | 21Km | Piers B | Bourke | M | SGP | THB 100.00 |
| 2018 | 21Km | Philibert | Braat | M | NLD | THB 100.00 |
| 2033 | 21Km | SORLIN | CHANEL | M | FRA | THB 100.00 |
| 2057 | 21Km | Galantucci | Daniel | M | CHE | THB 100.00 |
| 2064 | 21Km | Philippe | Delmotte | M | MYS | THB 100.00 |
| 2074 | 21Km | Andrew | Ferguson | M | SGP | THB 100.00 |
| 2075 | 21Km | Mark | Fisher | M | HKG | THB 1,000.00 |
| 2078 | 21Km | Richard | Francis | M | SGP | THB 1,250.00 |
| 2090 | 21Km | Baptiste | Grenier | M | THA | THB 100.00 |
| 2096 | 21Km | AGUS AUGUSTINUS | HALIM | M | IDN | THB 100.00 |
| 2102 | 21Km | Samuel | Hill | M | SGP | THB 800.00 |
| 2106 | 21Km | Frank | HOLLE | M | NLD | THB 1,000.00 |
| 2114 | 21Km | CHIAO MIN | HUANG | M | TWN | THB 100.00 |
| 2115 | 21Km | chien ta | Huang | M | TWN | THB 100.00 |
| 2119 | 21Km | Fumiyoshi | Imao | M | JPN | THB 100.00 |
| 2139 | 21Km | Toshifumi | Kawase | M | JPN | THB 100.00 |
| 2150 | 21Km | PREDDY | KOESNADI | M | IDN | THB 100.00 |
| 2154 | 21Km | Vaibhav | Kumar | M | SIN | THB 500.00 |
| 2155 | 21Km | Kok Chen | Kuu | M | MYS | THB 100.00 |
| 2158 | 21Km | Christopher | Lambert | M | NZL | THB 100.00 |
| 2207 | 21Km | Ka Sun Kensun | MAK | M | HKG | THB 100.00 |
| 2209 | 21Km | Tsuyoshi | Makita | M | JPN | THB 100.00 |
| 2218 | 21Km | Stuart | McCall | M | CHN | THB 100.00 |
| 2219 | 21Km | Chris | McCullough | M | AUS | THB 100.00 |
| 2223 | 21Km | SPARTAK | MIFTAKHOV | M | THA | THB 300.00 |
| 2224 | 21Km | Fumito | Mikado | M | JPN | THB 100.00 |
| 2231 | 21Km | Kurt | Moermans | M | BEL | THB 100.00 |
| 2237 | 21Km | Yohei | Nakano | M | JPN | THB 100.00 |
| 2241 | 21Km | KWOK FAI | NG | M | HKG | THB 200.00 |
| 2247 | 21Km | Ichiro | Nishimune | M | JPN | THB 100.00 |
| 2250 | 21Km | Julio | Noguera | M | VEN | THB 100.00 |
| 2265 | 21Km | Ramesh | Parera | M | AUS | THB 100.00 |
| 2271 | 21Km | Anuwat | Phaithaisong | M | THA | THB 100.00 |
| 2293 | 21Km | Yosuke | Sano | M | JPN | THB 100.00 |
| 2294 | 21Km | Charley | Santoso | M | THA | THB 1,000.00 |
| 2317 | 21Km | Rajandran | Suppiah Raman | M | MYS | THB 100.00 |
| 2318 | 21Km | Shunta | Suzuki | M | JPN | THB 100.00 |
| 2321 | 21Km | Akito | Takeda | M | JPN | THB 100.00 |
| 2324 | 21Km | Susumu | Tanaka | M | THA | THB 100.00 |
| 2330 | 21Km | RAUL | TERRONEZ | M | HKG | THB 100.00 |
| 2358 | 21Km | MURIJADI | WIDJAJA | M | IDN | THB 100.00 |
| 2360 | 21Km | Orven | Wiesendanger | M | CHE | THB 100.00 |
| 2368 | 21Km | Xuwat | Wongchotewattana | M | THA | THB 1,000.00 |
| 2376 | 21Km | Kim Hung | YAM | M | HKG | THB 100.00 |
| 2387 | 21Km | tao sheng | yuan | M | TWN | THB 100.00 |
| 2504 | 21Km | Linzy | Azimi | F | SGP | THB 100.00 |
| 2505 | 21Km | Mary Claire Therese Flores | Balgan | F | PHL | THB 100.00 |
| 2507 | 21Km | Geraldine | Bourke | F | GBR | THB 100.00 |
| 2508 | 21Km | Huong | Bui | F | VNM | THB 100.00 |
| 2514 | 21Km | Yotsawan | Chaturapornkul | F | THA | THB 100.00 |
| 2534 | 21Km | Elizabeth | Day | F | AUS | THB 100.00 |
| 2538 | 21Km | KEYONG | DIAO | F | HKG | THB 200.00 |
| 2543 | 21Km | LIZA | DUNN | F | USA | THB 100.00 |
| 2552 | 21Km | Lisa | Gepanayao | F | PHL | THB 100.00 |
| 2553 | 21Km | Eileen | Goh | F | SGP | THB 500.00 |
| 2561 | 21Km | LEE Yee | Hew | F | MYS | THB 100.00 |
| 2562 | 21Km | Shiun Chien | Hii | F | MYS | THB 500.00 |
| 2563 | 21Km | Wai Lin | HO | F | HKG | THB 100.00 |
| 2567 | 21Km | Georgina | Howe | F | GBR | THB 100.00 |
| 2575 | 21Km | Pavandeep | Hundal | F | GBR | THB 100.00 |
| 2579 | 21Km | Toshitoki | Itoko | F | JPN | THB 100.00 |
| 2587 | 21Km | Nuri | Kenjo | F | DEU | THB 100.00 |
| 2592 | 21Km | Ching hui | Kuo | F | TWN | THB 100.00 |
| 2593 | 21Km | Hiu Tung | LAI | F | HKG | THB 100.00 |
| 2595 | 21Km | Chui Yuk | LAU | F | HKG | THB 100.00 |
| 2616 | 21Km | Sow Wah | Lim | F | MYS | THB 100.00 |
| 2636 | 21Km | Kimberly | Meninga | F | USA | THB 100.00 |
| 2637 | 21Km | Noorzawany | Misban | F | SGP | THB 500.00 |
| 2643 | 21Km | Jen | Newton | F | AUS | THB 100.00 |
| 2652 | 21Km | Jennifer Oma | Ong | F | PHL | THB 100.00 |
| 2654 | 21Km | Celina Lara | Padolina | F | PHL | THB 100.00 |
| 2655 | 21Km | April Grace | Pamplona | F | PHL | THB 100.00 |
| 2659 | 21Km | Evelyn | Ponce | F | PHL | THB 100.00 |
| 2663 | 21Km | MICHELLE | QUEIROZ | F | USA | THB 1,000.00 |
| 2664 | 21Km | Sharada | Qureshi | F | IND | THB 1,000.00 |
| 2665 | 21Km | Margaux | Ramires | F | FRA | THB 100.00 |
| 2668 | 21Km | Louise | Ruck | F | GBR | THB 100.00 |
| 2670 | 21Km | Mathilde | Saint-Jalmes | F | FRA | THB 100.00 |
| 2671 | 21Km | Judith | Sanderson | F | GBR | THB 100.00 |
| 2683 | 21Km | Yuyue | Song | F | CHN | THB 100.00 |
| 2686 | 21Km | Lisa | Stuart | F | GBR | THB 100.00 |
| 2688 | 21Km | JULIA | SUDJONO | F | IDN | THB 100.00 |
| 2693 | 21Km | YA-HUI | SU-YANG | F | TWN | THB 100.00 |
| 2695 | 21Km | Kaori | Takahashi | F | JPN | THB 100.00 |
| 2703 | 21Km | Akiko | Tanaka | F | JPN | THB 1,000.00 |
| 2704 | 21Km | Sayaka | Tanaka | F | JPN | THB 500.00 |
| 2708 | 21Km | Supinda | Techanarongkul | F | THA | THB 100.00 |
| 2709 | 21Km | Miyuki | Tezuka | F | JPN | THB 100.00 |
| 2714 | 21Km | Michelle | Turvey | F | AUS | THB 100.00 |
| 2717 | 21Km | Christina | Vokins | F | GBR | THB 100.00 |
| 2730 | 21Km | shu yi | weng | F | TWN | THB 100.00 |
| 2739 | 21Km | jing | xia | F | CHN | THB 100.00 |
| 2749 | 21Km | LUFAN | YANG | F | CHN | THB 100.00 |
| 2750 | 21Km | si yun | yang | F | TWN | THB 100.00 |
| 3001 | 10km | AHMAD DAUD | ABDUL RAHMAN | M | MYS | THB 100.00 |
| 3004 | 10km | LUDY | ANDIDARMA | M | IDN | THB 100.00 |
| 3005 | 10km | Henning | Badenhop | M | DEU | THB 250.00 |
| 3009 | 10km | Jonjon | Binalay | M | PHL | THB 100.00 |
| 3027 | 10km | TZU WEI | CHAO | M | TWN | THB 100.00 |
| 3049 | 10km | HANDRY | CHUHAIRY | M | IDN | THB 100.00 |
| 3059 | 10km | TOMSON BURHAN | DJAJA | M | IDN | THB 100.00 |
| 3070 | 10km | GIDION | GIDION | M | IDN | THB 100.00 |
| 3072 | 10km | Tom | Guest | M | GBR | THB 200.00 |
| 3096 | 10km | JOSEP | JOSEP | M | IDN | THB 100.00 |
| 3103 | 10km | Song Joo | Khor | M | MYS | THB 100.00 |
| 3174 | 10km | Thao Vy | Nguyen | M | VNM | THB 100.00 |
| 3182 | 10km | Akiyoshi | Ogane | M | JPN | THB 300.00 |
| 3203 | 10km | EROYDE REYNOLD | PHILIP JUMIN | M | MYS | THB 100.00 |
| 3244 | 10km | Lin | Shih | M | TWN | THB 100.00 |
| 3281 | 10km | CHENG CHANG | TSAI | M | TWN | THB 100.00 |
| 3297 | 10km | jirayut | wattanasin | M | THA | THB 100.00 |
| 3312 | 10km | Yavuz | YURDUSEV | M | FRA | THB 100.00 |
| 3313 | 10km | Alfio | Zappala | M | ITA | THB 100.00 |
| 3607 | 10km | Ada Ramona | Bardi | F | ROU | THB 100.00 |
| 3608 | 10km | Kristina | Belcher | F | IDN | THB 100.00 |
| 3613 | 10km | Jintana | Chaisang | F | THA | THB 100.00 |
| 3616 | 10km | Napaporn | Chatpolchai | F | THA | THB 100.00 |
| 3623 | 10km | CHAO HUI | CHEN | F | TWN | THB 100.00 |
| 3624 | 10km | Yen Bing | Chen | F | MYS | THB 100.00 |
| 3635 | 10km | Ting Fen | Chiang | F | TWN | THB 100.00 |
| 3645 | 10km | Sue Peng | Ee | F | MYS | THB 100.00 |
| 3651 | 10km | Leora | Friedland | F | ZAF | THB 100.00 |
| 3654 | 10km | Lucy | Guest | F | GBR | THB 200.00 |
| 3668 | 10km | Yizhou | Hong | F | CHN | THB 100.00 |
| 3669 | 10km | Ivana | Hornikova | F | SVK | THB 200.00 |
| 3694 | 10km | Finie | Kong | F | IDN | THB 100.00 |
| 3709 | 10km | Lai Sheung Janet | Leung | F | HKG | THB 100.00 |
| 3729 | 10km | Hermione | Macmillan | F | GBR | THB 300.00 |
| 3730 | 10km | Raija Marjatta | Makinen | F | FIN | THB 100.00 |
| 3738 | 10km | MEINAWATI | MEINAWATI | F | IDN | THB 100.00 |
| 3742 | 10km | Maricar | Miro | F | PHL | THB 100.00 |
| 3763 | 10km | Rita Oktavia | Pangadongan | F | IDN | THB 100.00 |
| 3803 | 10km | boontida | srisawasd | F | THA | THB 100.00 |
| 3814 | 10km | Ling Ling | Tan | F | MYS | THB 100.00 |
| 3819 | 10km | Buraskorn | Torut | F | THA | THB 100.00 |
| 3820 | 10km | Rita | Ueland | F | NOR | THB 100.00 |
| 3845 | 10km | AI LI | YEAP | F | MYS | THB 100.00 |
| 3852 | 10km | Jenny | Zeng | F | SWE | THB 100.00 |
| 5001 | 03km | MARIA | ALLETA | F | IDN | THB 100.00 |
| 5014 | 03km | Supaporn | Chaowalittawin | F | THA | THB 100.00 |
| 5070 | 03km | Sarah | Gerk | F | DEU | THB 100.00 |
| 5085 | 03km | Sally | Horn | F | GBR | THB 100.00 |
| 5117 | 03km | Huck Chun | Koay | M | MYS | THB 100.00 |
| 5125 | 03km | Jamie | Laureys | M | BEL | THB 100.00 |
| 5145 | 03km | Pei Yin | Loh | F | MYS | THB 100.00 |
| 5191 | 03km | Wiesendanger | Peter | M | CHE | THB 100.00 |
| 5234 | 03km | Wiesendanger | Shannen | F | CHE | THB 100.00 |
| 5238 | 03km | Vijita | Singh | F | IND | THB 100.00 |
| 5263 | 03km | MEGAWATY | SUHENDRA | F | IDN | THB 100.00 |
| 5264 | 03km | SISCA | SUHENDRA | F | IDN | THB 100.00 |
| 5282 | 03km | YIHAN | TIAN | F | CHN | THB 100.00 |
| 5319 | 03km | Jian Qing | Zhang | F | CHN | THB 100.00 |
| 3037 | 10km | Soty | Han | M | CAM | $10.00 |
| 3767 | 10km | Sophal | Doung | F | CAM | $10.00 |
| 3074 | 10km | Sothy | Han | M | CAM | $5.00 |
| 3702 | 10km | Sheung Mei | Lai | F | POR | $5.00 |
| 2191 | 21km | Wai Kin | Lok | M | CHN | KHR 4,000.00 |
| 3161 | 10km | Kosal | Mom | M | CAM | KHR 50,000.00 |
| 3002 | 10km | Noel Liwag | Aguado | M | PHL | HKD 20.00 |
| 2014 | 21km | Sonathan | Benarr | M | HKG | $20.00 |
| 2314 | 21km | Alexander | Struckmeier | M | HKG | $20.00 |

| BIB | Type | Family Name | Given Name | Gender | Nation | Donation |
| --- | --- | --- | --- | --- | --- | --- |
| 1001 | 42K | Ahmad | Abdul Cani | Male | BRU | $10.00 |
| 1014 | 42K | burke | gavin | Male | IRI | $5.00 |
| 1037 | 42K | Cheung | Pokman | Male | CHN | $5.00 |
| 1043 | 42K | Chou | Sihhan | Male | TPE | $5.00 |
| 1044 | 42K | CHUN WAI | CHAN | Male | CHN | $5.00 |
| 1045 | 42K | Church | Joe | Male | USA | $10.00 |
| 1049 | 42K | Davison | John | Male | AUS | $12.00 |
| 1051 | 42K | De Wet | Oscar Jacques | Male | RSA | $20.00 |
| 1058 | 42K | Dornan | Bryan | Male | IRI | $20.00 |
| 1059 | 42K | Duker | Craig | Male | NZL | $5.00 |
| 1067 | 42K | Furukawa | Shin | Male | JPN | $20.00 |
| 1068 | 42K | Galeazzi | Matteo | Male | ITA | $5.00 |
| 1077 | 42K | Hastenrath | Dirk | Male | GER | $10.00 |
| 1084 | 42K | Horie | Hiroyuki | Male | JPN | $5.00 |
| 1120 | 42K | Kiya | Toru | Male | JPN | $10.00 |
| 1125 | 42K | Kumasaka | Hideto | Male | JPN | $10.00 |
| 1131 | 42K | Lee | Wei Hong | Male | SIN | $10.00 |
| 1132 | 42K | Lee | Chong Yee | Male | MAS | $10.00 |
| 1133 | 42K | Lee | Chin Chung | Male | CHN | $5.00 |
| 1159 | 42K | lozé | Guillaume | Male | FRA | $5.00 |
| 1177 | 42K | Murakami | Makoto | Male | JPN | $5.00 |
| 1198 | 42K | OSAKA | YOSHIKAZU | Male | JPN | $10.00 |
| 1199 | 42K | Oshima | Masahiro | Male | JPN | $20.00 |
| 1229 | 42K | Seow Kee | Yong | Male | MAS | $10.00 |
| 1235 | 42K | SHIGA | TSUYOSHI | Male | JPN | $5.00 |
| 1237 | 42K | Shiozawa | Kenichi | Male | JPN | $10.00 |
| 1240 | 42K | Sim | Ban leng | Male | MAS | $10.00 |
| 1257 | 42K | thomsen | jesper | Male | DEN | $5.00 |
| 1302 | 42K | Xiao Dong | Mao | Male | CHN | $5.00 |
| 1308 | 42K | Yamanaka | Yoshihiro | Male | JPN | $10.00 |
| 1326 | 42K | Yung | Mikael | Male | FRA | $10.00 |
| 1339 | 42K | ZHOU | LINYIN | Male | CHN | $10.00 |
| 1521 | 42K | Douwes | Anne | Female | AUS | $10.00 |
| 1522 | 42K | Easton | Sarah | Female | UK | $5.00 |
| 1537 | 42K | Holyman | Bettina Jane | Female | AUS | $5.00 |
| 1547 | 42K | JIAYING | LU | Female | CHN | $5.00 |
| 1550 | 42K | Kwan | Sohila | Female | AUS | $100.00 |
| 1557 | 42K | Lee | Yee Hui | Female | SIN | $5.00 |
| 1567 | 42K | Ling | Jennie | Female | SIN | $5.00 |
| 1573 | 42K | MA | He | Female | CHN | $5.00 |
| 1583 | 42K | Mumford | Amy | Female | UK | $5.00 |
| 1586 | 42K | Pilla | Eleonora | Female | ITA | $50.00 |
| 1587 | 42K | Plchova | Anna | Female | Czech | $100.00 |
| 1597 | 42K | Stoakes | Anjie | Female | UK | $5.00 |
| 1600 | 42K | Tai | Kuan Thye | Female | MAS | $10.00 |
| 1604 | 42K | Uchino | Maki | Female | JPN | $10.00 |
| 1612 | 42K | Wen | Xueli | Female | CHN | $5.00 |
| 1628 | 42K | YAO | Yinjiao | Female | CHN | $5.00 |
| 1630 | 42K | Yoshida | Satomi | Female | JPN | $5.00 |
| 1631 | 42K | Zhang | Chaohui | Female | CHN | $5.00 |
| 2014 | 21K | Bryant | Jon | Male | USA | $20.00 |
| 2016 | 21K | Byrne | Padraic | Male | IRI | $20.00 |
| 2023 | 21K | Chen | Ken | Male | CHN | $5.00 |
| 2062 | 21K | Escoffier | Philippe | Male | FRA | $5.00 |
| 2067 | 21K | Finn | Will | Male | NZL | $10.00 |
| 2077 | 21K | Gunarto | Willy | Male | INA | $5.00 |
| 2087 | 21K | Holcombe | Jon | Male | USA | $25.00 |
| 2113 | 21K | KE | CAO | Male | CHN | $5.00 |
| 2115 | 21K | Kersten | Michael | Male | USA | $10.00 |
| 2119 | 21K | Kitanishi | Yosuke | Male | JPN | $5.00 |
| 2121 | 21K | Kobayashi | Koji | Male | JPN | $10.00 |
| 2126 | 21K | Kumar | Manish | Male | IND | $10.00 |
| 2136 | 21K | Lee | Steven | Male | UK | $5.00 |
| 2137 | 21K | Leong | Chan Eng | Male | Sin | $10.00 |
| 2156 | 21K | Luangprapat | jiravit | Male | THA | $10.00 |
| 2174 | 21K | Muehlecker | Johann | Male | AUT | $20.00 |
| 2177 | 21K | NG KWOK | FAI | Male | CHN | $5.00 |
| 2185 | 21K | PANG | YIU HON | Male | CHN | $10.00 |
| 2198 | 21K | Reith | Neil | Male | UK | $5.00 |
| 2200 | 21K | renyi | lin | Male | TPE | $5.00 |
| 2202 | 21K | Righetto | Gianluca | Male | ITA | $5.00 |
| 2203 | 21K | Ronald | Braun | Male | GER | $10.00 |
| 2211 | 21K | Sato | Tomomi | Male | JPN | $5.00 |
| 2233 | 21K | TANGSUKSANT | THAWATCHAI | Male | THA | $5.00 |
| 2238 | 21K | tiantjong | ng | Male | INA | $20.00 |
| 2246 | 21K | Wang | Yu | Male | CHN | $5.00 |
| 2258 | 21K | Warner | Adam | Male | AUS | $10.00 |
| 2261 | 21K | Wemel | Laurent | Male | BEL | $5.00 |
| 2267 | 21K | WIRIYAPRECHAKUL | ABHICHART | Male | THA | $5.00 |
| 2268 | 21K | Wong | Q Ee Kellie | Male | MAS | $5.00 |
| 2302 | 21K | ZHANG | WENJUN | Male | CHN | $5.00 |
| 2503 | 21K | Ahmad Tajuddin | Ruzaini | Female | MAS | $5.00 |
| 2504 | 21K | Aloé | Charlotte | Female | FRA | $5.00 |
| 2524 | 21K | Chew | Lee Sian | Female | MAS | $10.00 |
| 2536 | 21K | Dettrich | Courtney | Female | USA | $5.00 |
| 2537 | 21K | DIAO | KEYONG | Female | CHN | $5.00 |
| 2539 | 21K | Doktor | Natalia | Female | POL | $5.00 |
| 2547 | 21K | Forrest | Fiona | Female | UK | $5.00 |
| 2550 | 21K | Fursa | Marina | Female | LAT | $5.00 |
| 2555 | 21K | Goransson | Caroline | Female | SWE | $10.00 |
| 2556 | 21K | Griffis | L. Brittany | Female | USA | $10.00 |
| 2557 | 21K | Griffiths | Roo | Female | UK | $5.00 |
| 2562 | 21K | Harding | Katrina | Female | NZL | $5.00 |
| 2568 | 21K | Ho | May Lian | Female | SIN | $10.00 |
| 2583 | 21K | JIEKUN | DONG | Female | CHN | $5.00 |
| 2585 | 21K | Kincaid | Megan | Female | USA | $10.00 |
| 2590 | 21K | Kula | Vivienne Ivy | Female | MAS | $5.00 |
| 2602 | 21K | Lim | Siang Eng | Female | MAS | $5.00 |
| 2625 | 21K | Martinez | Jennifer | Female | USA | $5.00 |
| 2630 | 21K | Mohamed Andy | Suhaila | Female | SIN | $5.00 |
| 2632 | 21K | Morris | Christine | Female | NZL | $5.00 |
| 2643 | 21K | Omar | Marzaton Huda | Female | MAS | $5.00 |
| 2652 | 21K | Saito | Ayako | Female | JPN | $5.00 |
| 2665 | 21K | Shunmugan | Natalia | Female | ITA | $10.00 |
| 2666 | 21K | Singh | Kaanhari | Female | IND | $10.00 |
| 2683 | 21K | Tickner | Melita | Female | AUS | $5.00 |
| 2684 | 21K | Tieu Phuong | Vi | Female | VIE | $5.00 |
| 2687 | 21K | Utkina | Lyudmila | Female | KAZ | $5.00 |
| 2689 | 21K | Verheyen | Suzanne | Female | BEL | $5.00 |
| 2692 | 21K | WANG | YAN | Female | CHN | $5.00 |
| 2713 | 21K | Yee | Wai Harn | Female | MAS | $5.00 |
| 2722 | 21K | Zhang | Miao | Female | CHN | $5.00 |
| 3001 | 10K | Abdul Jalil | Muhammad Faizal | Male | SIN | $5.00 |
| 3054 | 10K | Chuvin | Cédric | Male | FRA | $5.00 |
| 3095 | 10K | Hodge | Robert | Male | UK | $5.00 |
| 3112 | 10K | Irwin | Daniel | Male | IRI | $5.00 |
| 3114 | 10K | Jug | Andrew | Male | GER | $25.00 |
| 3175 | 10K | Lui | Hiu Tung Colin | Male | CHN | $10.00 |
| 3181 | 10K | MAK | TIK HEI | Male | CHN | $5.00 |
| 3196 | 10K | Mondorf | Christian | Male | DEN | $5.00 |
| 3203 | 10K | Neville | Mark | Male | IRI | $5.00 |
| 3219 | 10K | Omar | Muzzammil | Male | SIN | $5.00 |
| 3248 | 10K | Powell | Timothy | Male | USA | $5.00 |
| 3269 | 10K | Sabry | Amir | Male | EGY | $100.00 |
| 3506 | 10K | Badenhop | Maxine | Female | UK | $10.00 |
| 3514 | 10K | Chan | Yeung Hung | Female | CHN | $5.00 |
| 3548 | 10K | Goh | Soo Ming | Female | MAS | $5.00 |
| 3554 | 10K | Harding | Katrina | Female | NZL | $5.00 |
| 3570 | 10K | Jiaraphan | Kannicha | Female | Thai | $5.00 |
| 3573 | 10K | Keller | Una | Female | IRI | $5.00 |
| 3618 | 10K | Low | Jeslyn | Female | SIN | $10.00 |
| 3629 | 10K | MATSUGI | MINA | Female | JPN | $5.00 |
| 3637 | 10K | Mokhtar | Yasmien | Female | EGY | $100.00 |
| 3655 | 10K | Noraini | Siti | Female | SIN | $5.00 |
| 3664 | 10K | Padgett | Mary | Female | USA | $20.00 |
| 3666 | 10K | PANG | HIU WA | Female | CHN | $10.00 |
| 3680 | 10K | POH | JAYNE | Female | MAS | $5.00 |
| 3681 | 10K | POH | ROSALYNN | Female | MAS | $5.00 |
| 3682 | 10K | POH | MARY ANN | Female | MAS | $5.00 |
| 3699 | 10K | Sannen | Katja | Female | BEL | $10.00 |
| 3743 | 10K | Tho | Li Ming | Female | MAS | $5.00 |
| 3747 | 10K | Tse | Ka Hei | Female | CHN | $5.00 |
| 3788 | 10K | Yim | Lai Kwan | Female | CHN | $5.00 |
| 3856 | 10K | Eam | Soklim | Female | CAM | $5.00 |
| 5005 | 3K | Badenhop | Henning | Male | GER | $10.00 |
| 5006 | 3K | Badenhop | Madison | Female | GER | $10.00 |
| 5007 | 3K | Badenhop | Millie | Female | GER | $10.00 |
| 5035 | 3K | Ewing | Rachel | Female | UK | $5.00 |
| 5083 | 3K | Marr | Shirley | Female | NZL | $5.00 |
| | | | | | | |

| BIB | Race Type | Family | Given | Gender | Nation. | Donation |
| --- | --- | --- | --- | --- | --- | --- |
| 1016 | 42K | Blervaque | Thomas | M | FRA | $11.50 |
| 1017 | 42K | Bo | Qiao | M | CHN | $10.00 |
| 1018 | 42K | Borja | Bij | M | PHI | $12.00 |
| 1030 | 42K | Chaichana | Chatchawan | M | THA | $5.00 |
| 1031 | 42K | Chan | Nicodemus | M | MAS | $10.00 |
| 1033 | 42K | Chan | Kwai ping | M | CHN | $10.00 |
| 1048 | 42K | Chen | Chung Min | M | TPE | $10.00 |
| 1060 | 42K | Choi | Ka Kui | M | CHN | $10.00 |
| 1094 | 42K | Fujita | Hiroyuki | M | JPN | $10.00 |
| 1127 | 42K | Hutchinson | Luke | M | AUS | $17.00 |
| 1157 | 42K | Ko | Jungu | M | KOR | $10.00 |
| 1172 | 42K | Lee | Kok Wah | M | MAS | $10.00 |
| 1211 | 42K | Luongo | John | M | USA | $11.50 |
| 1259 | 42K | Nunn | Andrew | M | GBR | $35.00 |
| 1261 | 42K | Oh | Leon | M | SIN | $10.00 |
| 1270 | 42K | Pengfei | Jing | M | CHN | $10.00 |
| 1278 | 42K | Pontius | Jon | M | USA | $10.00 |
| 1279 | 42K | Pupininkas | Gintaras | M | LTU | $11.00 |
| 1288 | 42K | Rodenburg | Steven | M | USA | $20.00 |
| 1300 | 42K | Segu Subira | Oriol | M | ESP | $23.00 |
| 1350 | 42K | Tran | Hung | M | VIE | $10.00 |
| 1381 | 42K | Wang | Chun Chun | M | TPE | $10.00 |
| 1410 | 42K | Yew Tat | Low | M | MAS | $10.00 |
| 1411 | 42K | Yimsiriwatana | Somchai | M | THA | $10.00 |
| 1692 | 42K | Mumford | Amy | F | GBR | $5.00 |
| 2021 | 21K | Bush | Harold | M | GBR | $10.00 |
| 2085 | 21K | Duc Dung | Nguyen | M | VIE | $10.00 |
| 2093 | 21K | Facer | William | M | GBR | $10.00 |
| 2100 | 21K | Galletti | John | M | AUS | $10.00 |
| 2112 | 21K | Hanpanit | Suttirat | M | THA | $10.00 |
| 2157 | 21K | Kelly | David | M | AUS | $10.00 |
| 2169 | 21K | Koot | Jeroen | M | NED | $10.00 |
| 2197 | 21K | Lee | Steven | M | GBR | $10.00 |
| 2244 | 21K | Manasatian | Ronnayut | M | THA | $10.00 |
| 2265 | 21K | Ng | Martin | M | HKG | $13.00 |
| 2268 | 21K | Nguyen | Hai Dong | M | VIE | $5.00 |
| 2290 | 21K | Nimitrut | Norrapat | M | THA | $10.00 |
| 2298 | 21K | Ong | Marsk | M | SIN | $5.00 |
| 2335 | 21K | Randavel | Dimitri | M | FRA | $10.00 |
| 2440 | 21K | Wang | Yulei | M | CHN | $10.00 |
| 3009 | 21K | Bikelyte | Alina | F | LTU | $10.00 |
| 3011 | 21K | Budiman | Lia | F | INA | $5.00 |
| 3069 | 21K | Fukuda | Chieko | F | THA | $10.00 |
| 3124 | 21K | Lee | Mei Ling | F | SIN | $10.00 |
| 3168 | 21K | McEvoy | Yvonne | F | IRL | $11.00 |
| 3171 | 21K | Morrow | Ruth | F | USA | $15.00 |
| 3173 | 21K | Nakashita | Shimami | F | JPN | $10.00 |
| 3255 | 21K | Templar | Katie | F | GBR | $10.00 |
| 4507 | 10K | Lai | Boon Hong | M | SIN | $100.00 |
| 4554 | 10K | Manh Hung | Nguyen | M | VIE | $5.00 |
| 4558 | 10K | Yee | Mw | M | MAS | $11.00 |
| 4582 | 10K | Fujita | Junichi | M | JPN | $10.00 |
| 4594 | 10K | Krug | Andreas | M | GER | $30.00 |
| 5361 | 10K | Tsang | Lai-Yun | F | GBR | $10.00 |
| 5389 | 10K | Jackson | Jenny | F | AUS | $5.00 |
| 5409 | 10K | Tobata | Hitomi | F | JPN | $35.00 |
| 5426 | 10K | Châu | Hoàng Ng?c | F | VIE | $10.00 |
| 5454 | 10K | Nguyen | Hung | F | VIE | $11.00 |
| 6240 | 3K | Tu | Daniel | M | AUS | $10.00 |
| 6381 | 3K | Galletti | Anne | F | AUS | $10.00 |
| | | Tranh | Khanh | M | VIE | $75.00 |

| Nº | BIB | Category | Family Name | Given Name | Gender | Nation | Donation |
| --- | --- | --- | --- | --- | --- | --- | --- |
| 1 | 1008 | 42Km | Lewis | Rachael | F | UK | $22.21 |
| 2 | 0104 | 42Km | Ledesma | Jerry | M | USA | $16.76 |
| 3 | 0111 | 42Km | Mols | Pieter | M | NED | $27.59 |
| 4 | 2167 | 21Km | Supiandi | Mohamad | M | INA | $10.01 |
| 5 | 3041 | 21Km | HERVE | Raphaele | F | FRA | $22.35 |
| 6 | 3042 | 21Km | KISHIMOTO | SAKIKO | F | JPN | $11.14 |
| 7 | 3048 | 21Km | Endo | Ryoko | F | JPN | $10.04 |
| 8 | 4665 | 10Km | Christopher | Vale | M | UK | $20.00 |
---
---