កីឡាករ កីឡាការិនីជាទីស្រលាញ់រាប់អាន!
ក្នុងឱកាសថ្ងៃបុណ្យនៃសេចក្តីស្រលាញ់ (Valentine's Day) នាថ្ងៃទី១៤ ខែកុម្ភៈ ឆ្នាំ២០២១ គណៈកម្មាធិការរៀបចំពិធីប្រណាំងកង់ សូមប្រកាសនូវព្រឹត្តិការណ៍ប្រណាំងកង់ នៃក្តីស្រលាញ់ នាថ្ងៃទី១៤ ខែកុម្ភៈ ឆ្នាំ២០២១ នៅតំបន់ឆ្នេរសមុទ្រអូរឈើទាល ខេត្តព្រះសីហនុ។
គណៈកម្មាធិការរៀបចំពិធីប្រណាំងកង់ សូមគោរពអញ្ជើញកីឡាករ កីឡាការិនី ក្រុមគ្រួសារ និងដៃគូមិត្តសម្លាញ់(Couple) ចូលរួមក្នុងការជិះកង់ នៃក្តីស្រលាញ់ ដើម្បីអបអរសាទរទិវានៃក្តីស្រលាញ់ និងភាពសប្បាយរីករាយនៅតាមតំបន់ឆ្នេរសមុទ្រដែលមានសភាពធម្មជាតិស្អាតបរិសុទ្ធក្រៃលែង។
សូមមេត្តាចុះឈ្មោះឲ្យបានរួសរាន់ ចាប់ពីថ្ងៃនេះរហូតដល់ថ្ងៃទី ១៣ ខែកុម្ភៈ ឆ្នាំ២០២១ ដោយក្តីអនុគ្រោះ។
គណៈកម្មាធិការប្រណាំងកង់
Dear  Bikers and supporters,
​​​    On the occasion of Valentine 14 February 2021, The Cycling Committee would like to organize the Bike Race to celebrate the Valentine date at Ocheuteal Beach,  Sihanoukville Province.
The Cycling Committee would like to invite all Bikers including elites, families and couples to participate this meaningful event to get the unforgettable sweet memory of love and the amazing beauty nature of the course along the pristine beach.
Please kindly hurry up to register from today .
Your kind support and participation should be very grateful and appreciated.
Phnom Penh 18 January 2021
The Cycling Committee
Event Date & Time Schedule
Event Date & Time: Sunday, February 14, 2021 - 5:30am to 10:30am

Start / Finish Location: Ocheuteal Beach, Sihanoukville, Cambodia.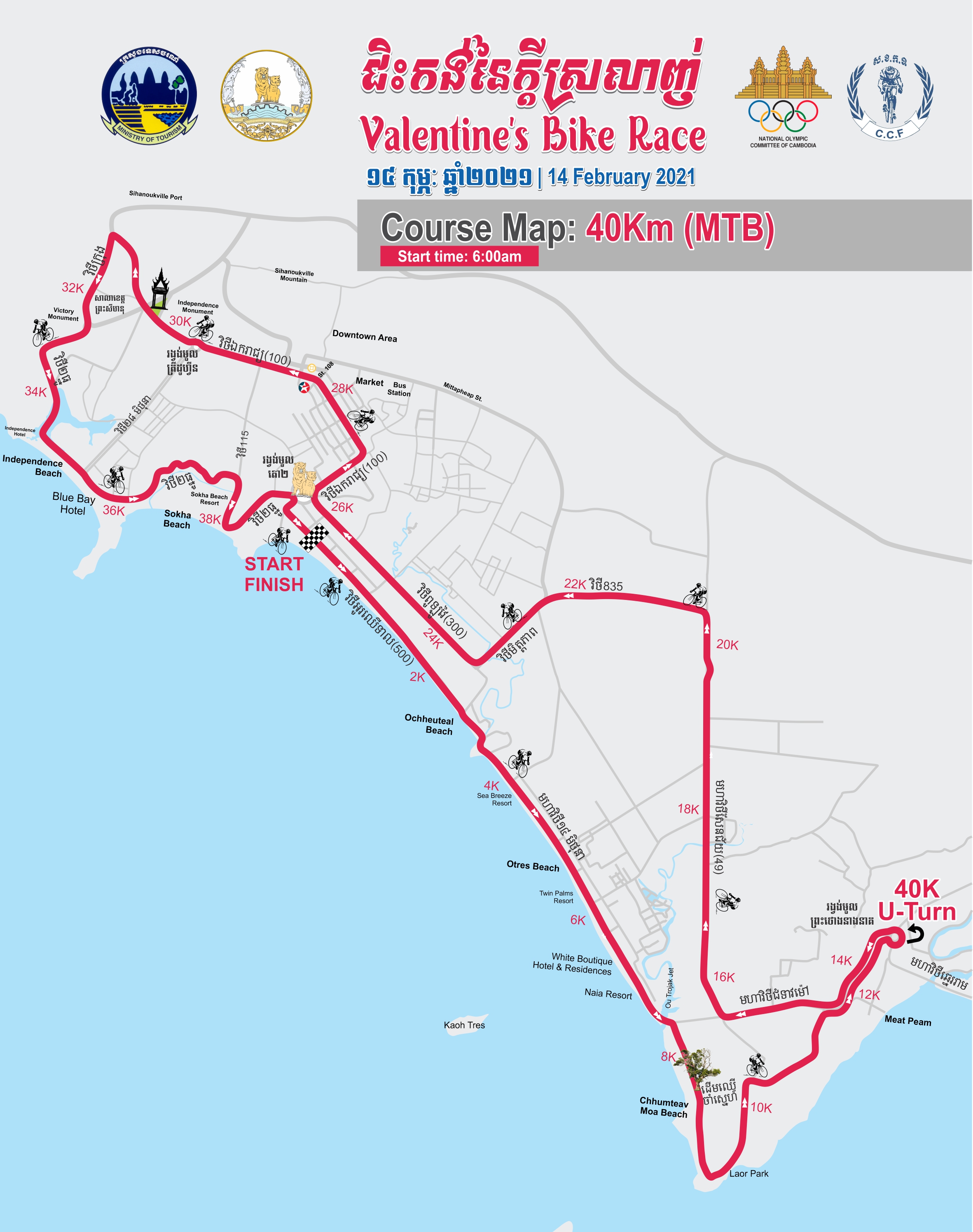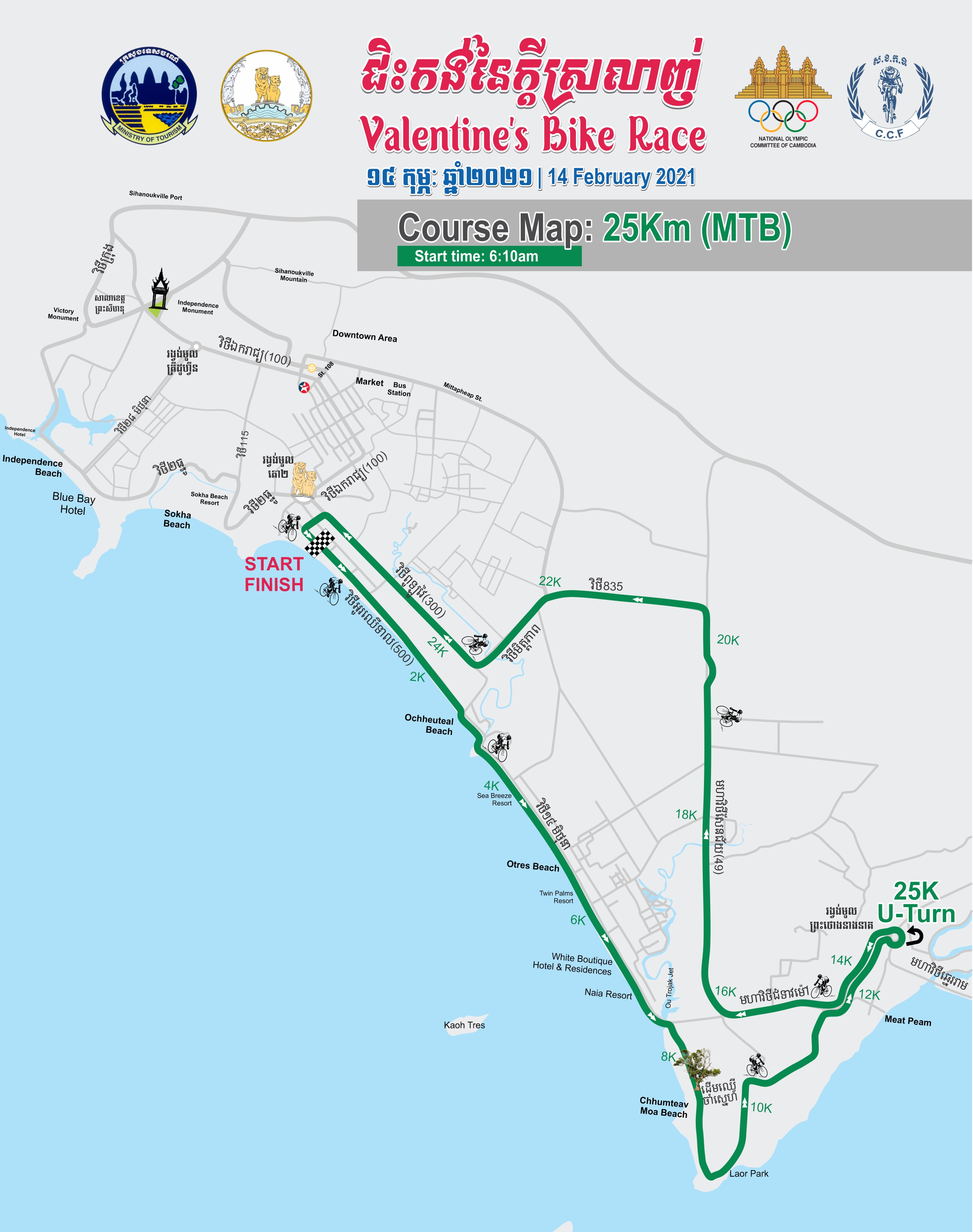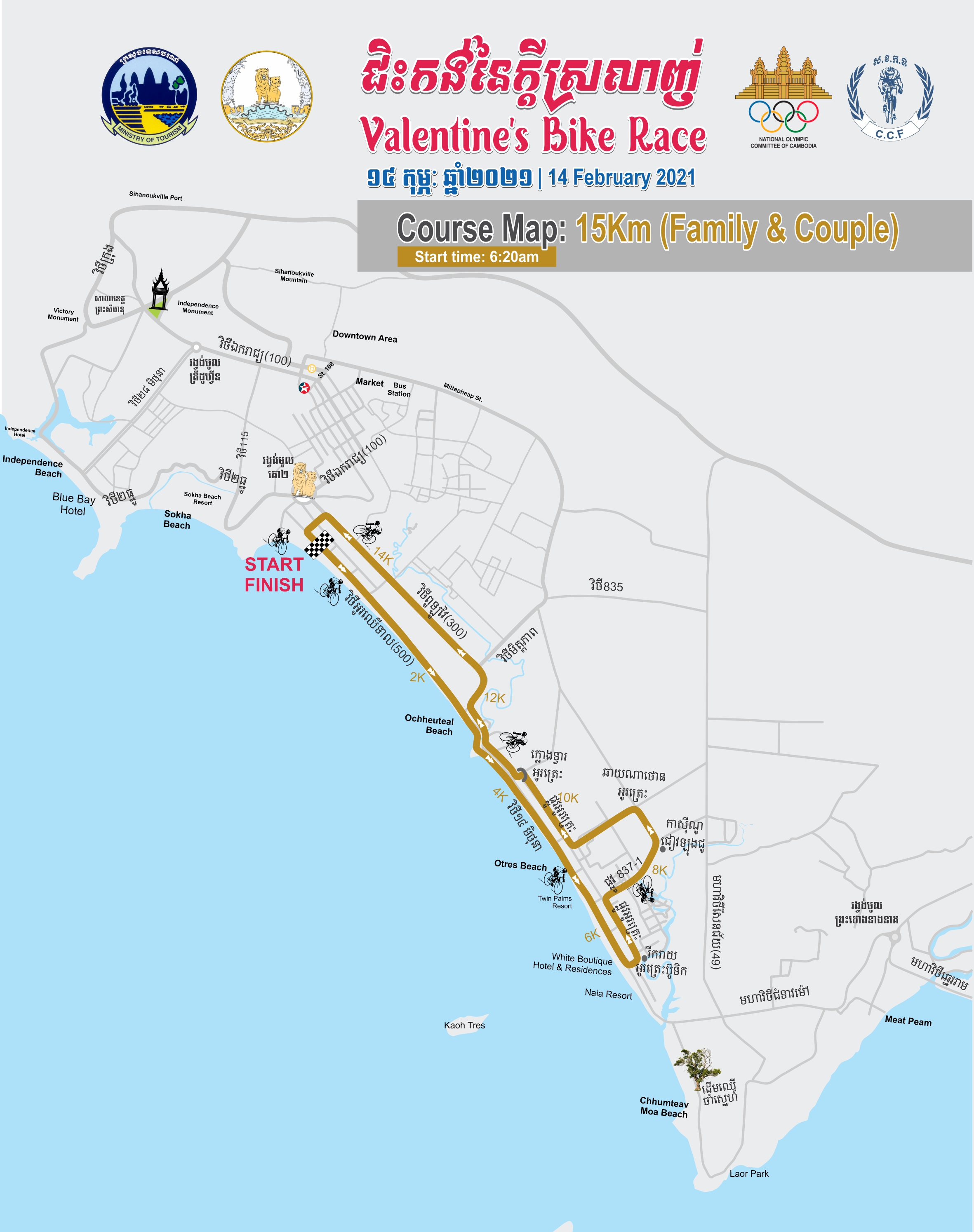 >> Deadline registration: 13-Feb-2021
1. Onsite Registration
** Please Click Here to download entry form to fill up and submit it together with the payment at our registration offices located at:
Cambodia Events Organizer Co., Ltd (CEO)
Address: No.79C, St.155, Sangkat Toul Tompong I, Chamcar Mon Dist, Phnom Penh, Cambodia.
Telephone :(855)23-213 525, Cellphone :(855)15 213 525 | (855)69 213 525
E-mail: reg@cambodia-events.org | info@cambodia-events.org
Office Map: Click Here
National Olympic Committee of Cambodia
Address: No.1, Poland Republic Blvd , Sangkat Veal Vong, Khan 7Makara, Phnom Penh, Cambodia.
Cellphone :(855)89 64 32 64 | (855)89 62 30 80
---
---